SIGHT & SOUND
Of exposes and rising TRPs
Amita Malik


Duryodhana has figured often enough in Big B's questions on Kaun Banega Crorepati, both I and II. But last week, it was different. The morning began with the questions: Would Big B leave the hospital on Tuesday or not? Would Pathan get his century or not? Why were the crowds shouting Sourav, Sourav? After all, this was not Dada at Eden Gardens.
By the evening, however, all these questions faded into the background as Aniruddh Bahl, the hero of some of the biggest sting operations on TV, took charge and sent all the other questions on to the back foot. As astonished viewers looked, and no one was more astonished than the normally unflappable and long-suffering Somnath Chatterjee, the MP bribe-takers came loud and clear on the screen. Even Natwar Singh's son's summons by the ED was forgotten. Now the big question was: Which out of the five parties named would have the highest score? Well, the BJP won hands down with five out of 11 and, for once, all the parties involved came together by going red in the face and roundly condemning their culprits. It seemed the high political drama on the small screen had, at least this once, beaten not only the big screen but also Big B.
Increasingly the expose of scams on the small screen is taking over the TRPs, just as daily programmes on crime, with the presenters themselves looking like villains, are becoming alarmingly popular. In all, is this increasing rat race, plaguing a very important aspect of the media and, particularly socially important programmes, of benefit to the community at large? A very timely question. Perhaps it is time that channels as well as those who plan programmes gave this important aspect of TV a thought. Already some exposes, especially of the sexually suspect variety, have gone too far. The government is planning more control in the name of morality. The warning is there for all to see. Only those exposes which are of great social importance and interest to the nation — like this one of MPs accepting bribes — merit screening. What Govinda did 11 years ago, or catching legislators in bed with females of doubtful origin certainly is not of much consequence.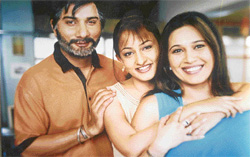 Astitva, Ek Prem Kahani is losing its appeal

I had said some columns ago that Astitva, Ek Prem Kahani, which started on such a good wicket, was going round the bend. Let me add now that it has reached such sorry depths in plot and credibility that I have lost the respect and interest I had for it. Now, I watch, like someone fascinated by a snake, to see how far it can go to insult the viewer. The unflappable and highly professional doctor not only goes blind but acts more like a nervous schoolgirl rather than Dr Simran. She refuses a lens transplant for some unknown reason and flounders all over the house, snuggling up to her long-suffering husband. Meanwhile, an unlikely villain in the form of Simran's arch enemy's son (and, also, it seems her husband's son) gets Simran to distrust and even dismiss her most trusted supporters. Even the Bai, a much-loved member of the family, has to leave because of the injustice to her husband. Worst of all, Abhi who has broken every rule in the marriage book and is said to be a writer of the highest liberalism, acts like a village father over his daughter's harmless kiss with her boyfriend (who is like a son of the house) and the situation is only saved when Simran's father makes it all respectable by getting them engaged. If Jassi`85 kicked the ball into its own goal, Astitva...is outdoing it. If I watch now, it is only to see how a good serial can destroy itself.


Mind your manners
I winced every time I saw the woman sports jockey on Zee Sports' Cricket Cafe address Kapil Dev as "Kapil" in a very yaar-dost manner. This is India, young lady, and we can always affix 'ji' and address him as Kapil-ji or simply 'Sir', as is the due of not only an older person but one of the greatest cricketers there has ever been. And in case you think you are being modern and western, let me tell you that every young American from whom I have asked road directions on the streets of New York addressed me as "Ma'am". As do youngsters on the streets of London. So, do remember your manners as a young Indian.