Prince of Asia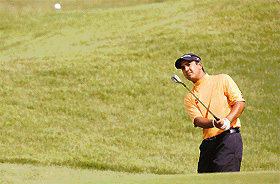 It is hard not to turn the clock exactly 12 months back. Last December, when Jyoti Randhawa was winning the Volvo Masters of Asia, Shiv Kapur was triumphing in the Surya Nepal Masters on the Amby Valley Indian PGA Tour in Kathmandu. On the final day, Indians pros were as engrossed with the progress of Randhawa in Kota Permai, where the Volvo Masters was being staged, as they were with Shiv Kapur who was battling hard to catch up with the leaders in the Indian Tour event.

News filtered in a little later that Randhawa had beaten Terry Pilkadaris in a playoff and an hour or so later, Kapur was engaged in a playoff with Amritinder Singh and Gurbaaz Mann. Kapur held his nerve, holed a 35-footer for a birdie on the first playoff hole and won the title.
Last week, he held his nerve to beat Randhawa to win his maiden Asian Tour title and that too at the Volvo Masters of Asia where the best of the continent had gathered for the season-ending tournament.
"The wheel has turned a full circle. I could hardly have realised that a year later I would be at the Volvo Masters. And not just that, but winning it, too," said Kapur.
In many senses it was that week in Nepal that launched Kapur. Sure, as a pro he had already won once before in his very second tournament in Chennai but after that had finished second more than a few times.
A month later he went to the Asian Qualifying School and finished 10th and was the only Indian to earn a full card. But that card was of no help as he was the alternate and reserve for most joint-sanctioned events.
"I just needed to be patient. But I was not doing well either," Kapur says.
The first half of Asian Tour season was rather mediocre. And as recently as September, after the Singapore Open, where he missed the cut, Kapur was as far back as 85th on the money list.
"My thought was to try and keep my card. I went and worked with Kel Llewellyn and when I was looking disappointed at watching events like the Singapore Masters and Malaysian Open on TV, he told me to be patient and said, 'soon you will be there'. I didn't realise it would be so soon."
A string of top-10 finishes followed but that also included a heart-break of losing in a playoff to an amateur Chinarat Phadsungil at the Double A International.
"Losing in the Double A play-off was a disappointment. I was telling people that I would be a better player from that experience and when I got onto the bigger stage, it would help me. I didn't expect this win to come this soon and I think I earned it."
Kapur first came into the limelight two years ago at the 2002 Asian Games at Busan when he stood on the winner's podium to wear the ultimate honour — the gold medal. But his story began much before that.
Kapur, who had access to the Delhi Golf Club as his father was a member, picked golf rather early.
"But it was hardly a cool game then. My friends used to say it was for old men, and I played cricket (which he still loves) and soccer to be 'in' with the rest," Kapur says.
He stayed at the Asian Games Village, and the big event meant a lot to him.
He was born in 1982, when the Asian Games were held in New Delhi and India won the gold medal in team and individual events.
"Living in the Games Village, I used to see names of big stars who had won gold medals in various events. I always wanted to win one. And I got a chance, when I took part in the 2002 games in Busan. I was trailing after the third day and on the final day, when it rained, I felt I could do it, because I had played in such conditions at Purdue University in the USA," he recalled.
He went on to win the gold medal at the Asiad. In the following year, the Arjuna Award was conferred on him ahead of professionals like Jyoti Randhawa and Arjun Atwal.
"That was not my choice," he said then. But now with a brilliant rookie year on Asian Tour, and on the Amby Valley Indian PGA Tour earlier in the season, he has proved more than worthy of all accolades that have come his way.
"I was impatient to turn pro after winning the Asian Games gold," he says. He had already won most amateur titles. He was the all-India junior champion in 1998 and 1999 and in 2000 he was the best amateur in the Indian Open, when Randhawa won the pro title.
"My father, Ravi Kapur, insisted I complete my degree and then turn pro. In retrospect that was the right thing to do. Too many sportsmen in India have had to endure hardships after their playing career," he says.
Kapur also confessed that his parents did not want him to play pro golf.
"My dad and my mum never really wanted me to be a pro golfer. They said play corporate golf, do the social part. They wanted me to go to Harvard and pursue an education but I turned that down because I wanted to do golf and academics. My sister went to Harvard. I went to Purdue and played golf on the college team. My parents left it up to me. Especially to be self-disciplined."
No sooner had he finished his degree, he turned professional. In his first year as a pro on the Indian Tour, he won two titles and finished second in five others. He ended in third place on the Order of Merit.
In 2004, Kapur came close to playing in the US Open as an amateur. After coming through the local qualifiers, he finished third in the sectionals and became the first alternate.
He came to Shinecock hoping he would get in case of some withdrawal.
But it did not happen. "I was allowed to practise at the range and saw guys like Phil Mickelson, Fred Couples and the rest there. I felt I belonged and hoped to be there someday."
Interestingly, the man on the bag for him then was his old friend, Neeraj Sareen, who was once again his caddie at Bangkok.
The gateways to a bigger stage have just opened. Just as he emerged with the trophy, he was informed by Louis Martin, Chief Executive of the Asian Tour, that he had received an invitation for Sony Open on the US Tour. He also gets an entry into the WGC-Bridgestone Invitational.