Ai gham-e-dil kya karoon
Nirupama Dutt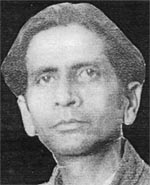 Asrar-ul-Haq Majaz gave AMUís anthem
The literary circuits in Delhi this December are suddenly talking about a man called Majaz. The literati, of course, introduce him, these days thus: "You know Majaz was the uncle of Javed Akhtar. Majazís sister was married to Javedís father, you know." Well, why this sudden interest in Mamu Jaan? The interest is generated by an exhibition on his life and work mounted first at the India International Centre and then at Jamia Milia. The occasion of the exhibition is the 50th year of his death. One may have a dig at him being referred to as Javedís uncle or Shabana Azmiís uncle-in-law but the truth is that 50 years is a long time even when the person may have been much celebrated in his lifetime and till date we hum his famous poem sung for a film by Talat Mehmood: Ai gham-e-dil kya karoon, ai wahshat-e-dil kya karoon. We hum it without knowing who wrote it.
But go to Aligarh Muslim Universityís website and there one finds his name listed among some of the most celebrated writers of Urdu literature: "Aligarh has produced a number of theatre and film personalities, poets, writers, including Khwaja Ahmad Abbas, Ismat Chughtai, Rahi Masoom Raza, Shahid Lateef, Shakeel Badauni, Sahir Ludhianvi, Akhtarul Iman, Jaan Nisar Akhtar, Majaz, Ali Sardar Jafri, and Javed Akhtar.
Asrar-ul-Haq Majaz was born in Radauli, district Barabanki ( Uttar Pradesh), in India. His early education was first in Lucknow and then Agra. He did his BA from Aligarh Muslim University in 1936.`A0This is the time when the AMU was swept up by the progressive movement. Majaz was also impressed and influenced by the progressives.`A0But he was always a romantic at heart like Faiz or Sahir but he did not have their resilience and thus his was a Mantoesque life with several breakdowns and finally an alcoholicdeath when he was 44. His passionate verses, pain, unrequited love for a rich woman and an early death had people calling him the ĎKeats of Urdu poetryí.
One is, of course, irked by such comparisons that probably emerge from our colonial past. If Majaz is called the Keats of Urdu, Shiv Kumar Batalvi is called the Keats of Punjabi. In doing so we relegate our own languages, literature and writers. It is a habit that we have to unlearn and it is high time for it is nearly six decades since our colonial history came to an end. So putting him in the perspective of his own language, curator Rakshanda Jalil says: "Majaz wrote of both love and revolution, of the needs for social change and the delights of idealised beloved. Spurning the newly emerging azaad nazm, he wrote lilting lyrical poetry, which was full-bodied and flavoursome of the vigour and radicalism of his time and age. It reflected in ample measure, the currents of social change and winds of socialism sweeping across an India on the brink of Independence."
The exhibition has on display rare manuscripts of his works, including an unpublished ghazal, and photographs and other material relating to his early life in his hometown of Rudauli, and then his student days in Aligarh, his progress as a poet and frustrations of his later life and resulting mental breakdowns are on display. Interestingly, he wrote many rousing songs and his famous Mera Chaman was adopted as the anthem by the AMU and is sung till date by students. His collection of poetry published in 1938 was called Aahang and had a foreword by Faiz. It was later was published as Shab-e-taab.`A0
Javed, who opened the exhibition in Delhi, says, "It was unfortunate that there was no memorial for this poet. Having a memorial just for Ghalib is not enough. In western countries, even the houses only visited by their great poets have been turned into a memorial, but here, the places where Majaz was born, lived and died stand neglected". An admirer of Majaz says, "Majaz never got his due really." That is true for he was a cult figure in his times and girls kept his pictures under their pillows when he rose as a meteor in his university days. But that was also a time when there were too many greats of Urdu poetry around. Hearing or reciting verses of Majaz still gives one goose pimples. And the best memorial for a poet is in his verses and this commemoration by his Alma Mater is bound to revive and interest in his poetry.