His Alaap struck a chord
Channi Singh pioneered the Punjabi music revolution in the UK, writes Prabhjot Singh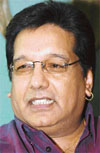 Channi Singh is the first Indian to get the BBC award
For the godfather of bhangra music in England, Channi Singh of the group Alaap, awards come naturally. Latest in the list of honours and awards has been the "Lifetime achievement for Punjabi music Award given to him by the Lord Mayor of Leicester, Mary Draycott, at the 13th anniversary celebrations of the BBC Radio's Punjabi Programme.
Fifty-three-year-old Channi Singh, from Malerkotla in Punjab, has been the pioneer of Punjabi music in England. In the late 70s, he formed the UK's first Punjabi music band, Alaap, that shot into fame with its first album, Bhabhiye nee Bhabiye. Nach Mundiya and Chunni de Sitare followed. He also cut an album of shabad.
His daughter, Mona Singh, perhaps the youngest Asian British to perform at Royal Albert Hall in London, was chosen the Most Promising Singer by Lashkara some time back. Channi is the founder, lead singer and director of Alaap which is currently in the Guinness Book of Records for the most successful and longest-running band. Channi Singh is the first British Asian to be appointed as a honorary Senior Lecturer of Music through Liverpool University. He has composed and directed music for big banner Bollywood films such as Yalgaar, Shaktimaan, Janasheen and Top less released in September.
Channi Singh, accompanied by his wife, Dhan, was here on a short visit to India. "When I came to England in 1975, I noticed that the Indian youths, especially Punjabis, had very few links with their rich cultural heritage back home. I wanted them to be proud of their cultural roots and believed that music would be the best method of educating them about their cultural roots. As destiny would have it, I soon met talented musicians with whom I formed Alaap in 1977."
Channi Singh has contributed to Punjabi Music for over three decades and has performed all over the world. He is highly respected by the Punjabi Community. Alaap has performed with Sir Jimmy Seville, UB40 and performed at Madison Square Garden in USA, Al Nasr Indoor Stadium in Dubai, and Royal Albert Hall in London. The band was described as 'Simply the Best' by The Gurkha Battalion in Bosnia. He has also performed in Canada, Australia and other countries. In 1992, Alaap became the first Asian British bhangra band to perform in Pakistan.
"Live performances are back. The disc jockeys (DJs) phase appears to be on the way out. It is why I have decided to come out with some of my classic albums starting with Bhabhiye nee Bhabhiyee, Chunni de Sitare, Nach Mundiya, etc., etc. There is a great demand for these albums which are now collectors' items," says Channi.
Channi, who is a music producer, has recently done an album for a Persian singer who has sung a Punjabi song also. "I have done music for a number of singers from various Asian countries," reveals Channi Singh who has set up his studio in the backyard of his Southall House.
Coming to his Lifetime Achievement Award in service of Punjabi music, he said that in 1992, members of the Sikh community asked the BBC, which is the backbone of the media, to dedicate programmes in Punjabi, the second most spoken language in England. This was pioneering work and the hardworking and respected community responded enthusiastically to the new programme.
Gurpreet Kaur who has been presenting the Punjabi Programme since it started broadcasting on September 9, 1992 said that since the programme began the air time has increased. The audience of the Punjabi programme ranges between four-year-olds to 74-year-olds, it includes Sikhs, Hindus, Muslims and Christians. After the lifetime achievement award presentation, Channi Singh sang his popular songs.
"It was indeed a very touching moment for me as I became the first-ever singer to be given the life time achievement award by an organisation like BBC," said.