PUNJAB

HARYANA

JAMMU & KASHMIR

HIMACHAL

REGIONAL BRIEFS

NATION

OPINIONS

MAILBAG

BUSINESS

SPORTS

WORLD


CHANDIGARH

LUDHIANA

JALANDHAR
New

DELHI

JALANDHAR PLUS

AMRITSAR PLUS

LIFESTYLE
New
Tuesday, December 20, 2005, Chandigarh, India
Updated at 3:00 am (IST)

WTO pact to boost farm exports
Kamal Nath defends accord
New Delhi, December 19
Brushing aside the criticism of the agreement reached at the WTO Ministerial meeting at Hong Kong that concluded yesterday, Commerce Minister Kamal Nath today said the agreement would boost India's farm and manufacturing exports in the global market.

Editorial: A modest success


Nation page: Farmers betrayed at WTO: CPM


World page: South Korea apologises for anti-WTO riots

Cabinet expansion, reshuffle on cards
New Delhi, December 19
Power Minister P.M. Sayeed's untimely demise has lent further urgency to the need for a Cabinet
expansion-cum-reshuffle as the Congress representation in the government has now been reduced by six.


India cautious on Bhutan
New Delhi, December 19
India today came out with a cautious response on Bhutan King Jigme Singye Wangchuk's December 17 announcement that his son Jigme Khesar Namgyal Wangchuk will be enthroned as the next King before 2008 and wished the prospective King "all success" as he prepares to assume the throne within the framework of a new Constitution.


CAST YOUR VOTE
Is the district administration to blame for the stampede in Chennai?


FORUM

EDUCATION

JOBS & CAREERS

HEALTH & FITNESS

SCIENCE & TECHNOLOGY

SPORTS

SOCIETY

TRIBUNE CLASSIFIEDS

BRIDES WANTED

GROOMS WANTED

OTHERS

HOW TO PLACE ADVTS
Quote
The role of the Government of India in these negotiations has not produced any outcome that adequately protects interests of farmers and the country.
— CPM Politburo
In Education Tribune today
India's Harbhajan Singh celebrates the dismissal of Sri Lanka's Kumara Sangakkara with teammate Yuvraj Singh (right), during the second day of the third and final Test match between India and Sri Lanka at the Sardar Patel Gujarat Stadium in Ahmedabad, on Monday. At the end of the day's play India were all out for 398 runs and Sri Lanka had scored 131 runs for the loss of five wickets, out of which four were taken by Harbhajan Singh.
— AFP photo
(Details on Sports page)
On-camera expose shows corruption
in MPLADS
New Delhi, December 19
Close on the heels of shocking cash-for-questions scam, the Star News Channel in a sting operation has sought to highlight corruption connected with the MP Local Area Development Scheme involving a former minister and MPs of various political parties.

Omar re-elected NC chief
Srinagar, December 19
Hailing the Indo-Pakistan dialogue process, former Jammu and Kashmir Chief Minister Dr Farooq Abdullah here today sought tripartite talks to resolve Kashmir by considering views of all political parties of the state.

| | |
| --- | --- |
| | PUNJAB: Dharna by doctors in front of Civil Surgeon's office |
| | |
| | HIMACHAL: Setback for Cong in panchayat elections |
| | DELHI: Demolition drive: Sheila approaches the Prime Minister |
| | |
| | CHANDIGARH: Right time to buy new car |
| | LUDHIANA: Rescued youths' tales of woe in Malaysia |
| | Opinions: Fatal relief |
| | |
| | NATION: Farmers betrayed at WTO: CPM |
| | |
| | |

E - Revolution 2005:
A Two-day IT conclave

Assembly Elections - 2005

Turbans

Chandigarh is 50

EARLIER FEATURES
2 die in IAF plane crash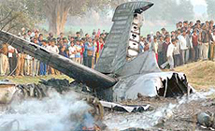 Agra, December 19
A vintage bomber aircraft of the Indian Air Force crashed near here today shortly after take off killing its two occupants — the pilot and the navigator, the police said.
Villagers look at a Canberra bomber which crashed near Agra on Monday. — AFP photo




Sensex touches 9,400-point mark


Bomb hoax on train



Cold claims 2 more lives
Chandigarh, December 19
Two persons died of severe cold wave that continued to sweep the north-west India with the mercury hovering 1°C to 5°C below normal at many places in the region today.



Delhi page: Capital in the grip of cold wave


Akal Takht to summon Sarna, brother
Amritsar, December 19
The Sikh clergy has decided to summon Mr Harwinder Singh Sarna, newly elected chief of the Delhi Sikh Gurdwara Management Committee, his predecessor Parmjit Singh Sarna and other office-bearers at Akal Takht for allegedly violating the directive issued by Giani Joginder Singh Vedanti, Jathedar Akal, Takht regarding postponement of the annual election held in New Delhi today.

42 die in Chennai stampede
December 19, 2005

Capt hints at debt waiver for farmers
December 18, 2005
Bomb scare in Parliament
December 17, 2005
Indo-US N-deal reciprocal: PM
December 16, 2005
North shivers
December 15, 2005
India dares big WTO players
December 14, 2005
CASH FOR QUESTIONS
December 13, 2005
No change in terms of Pathak panel: PM
December 12, 2005
Kalam for speedy justice
December 11, 2005
Govt rules out JPC probe
December 10, 2005
Govt in bind on EPF interest rate
December 9, 2005
BJP drama to divert attention, says PM
December 8, 2005