Candidates, cocky, casual & cool
An interview isn't a challenge only for job aspirants. It can test the patience of the interviewer too, writes A.J. Philip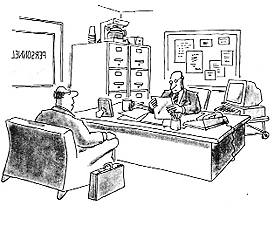 HOW old are you?" I asked a candidate who appeared too old to be considered for the job in question. Without batting an eyelid, he said, "I am 66 but if I dye my beard, I will be 50. In any case, my heart is 45." I gave him full marks for his confidence, though I kept wondering whether I should treat his age as 45, 50 or 66. He could not be faulted for not giving me an option.
The purpose of an interview is not to test the knowledge of the candidate. A look at his certificates and the written test results, if any, would serve the purpose. An interview is basically to assess the candidate's personality, his attitude to life and his aptitude for doing the job on offer.
But what do you do when the candidate questions the very rationale of the interview? A top management person and I were interviewing a candidate for a senior post. At one point, the candidate did not like one of the questions. That was enough to provoke him to go on an attacking spree, debunking the whole concept of an interview.
The argumentative interviewee
The chairman, who had a great sense of humour, told him that he did not have any 'divya drishti' to assess a person without talking to him. Needless to say, the candidate made a poor impression on him and his name was struck off the list. The lesson for job-seekers: Don't be argumentative while facing an interview, whatever Dr Amartya Sen may say about the argumentative tradition of Indians.
A candidate is expected to come prepared for the interview. She should try to be up to date in her area of specialisation. What can you do with a candidate who confessed that she had not read any newspaper for more than six months? Interestingly, she wanted to become a live-wire journalist like Barkha Dutt.
Certainly, candidates are not expected to know the answers of all the questions asked. There are simple answers like, "Sorry, I do not know" or "Sorry, I can't remember it now", as the case may be, instead of pretending that you know. Don't hazard an answer when you are not sure. A wrong answer can only expose your ignorance.
Dressed to thrill
It goes without saying that the candidate should be smartly dressed. Smart dress does not mean wearing a see-through shirt exposing the chest hair as a young candidate did while facing an interview for a reporter's job.
One of the reasons why he was rejected was his poor sense of dress. Equally distasteful was a girl, who came scantily dressed. At the other extreme was one who came wearing her bridal dress and jewellery. Her rejection was almost instantaneous.
Similarly, what do you make of a young man who wore stone-studded rings on almost all his fingers? He was only too willing to explain the significance of each ring. Unfortunately for him, he did not have the ring, which would fetch him the job he had come for.
While facing an interview, there is a maxim: if you are in doubt, tell the truth. A candidate did not realise this.
Experiment with truth
When she was asked about her hobby, she confidently mentioned, "reading". To the question, what she read, the answer was quick, "books". But she floundered when she was asked to name the last book she had read. After great difficulty, she muttered, "The Ramayana". I did not embarrass her by asking who wrote the 'Ramayana'.
Overconfidence should be shunned like the plague. A lady who did a journalism course from a prestigious institution began to brag about her alma mater at the slightest provocation. In distress, she had to be told that we had no plan to employ the institution as we were looking for a human being. The sternness had an effect on her and she behaved normally thereafter.
Telling lies about salary is a common practice, though it seldom pays dividend. Take the case of this girl. She was already employed in a company. But when she was asked about her salary, she mentioned an inflated figure.
As ill luck would have for her, the next candidate, who was senior to her in the same company, told the truth about his salary. She would have made a better impression had she been more truthful.
Not a suitable boy
An interview is not a venue to give free expression to your 'extracurricular' abilities. We were interviewing candidates for the post of a school Principal. A senior teacher from Haryana, who was righteously indignant over the neglect of his talent in school, appeared for the interview.
Within a minute it was apparent that he was not suitable for the post. Perhaps, in order to impress us, he sought permission to recite a poem he had himself composed.
One of the interviewers, who is a leading playwright and is married into a great family of musicians, gave him the green signal to do so. Nothing could restrain him after that. Finally, in sheer exasperation, he was told to stop and shown the door.
Mind your language
Sometimes, the interviewers can be put to great embarrassment. A lady candidate, accompanied by her brother, had come for the interview for the post of a headmistress. Since the medium of instruction in the school was English, we were keen to have somebody who had a good command of the language. For a change, the lady spoke well in English. What about her writing skill?
I took her to another room and asked to write 10 sentences on why she wanted this job or on any subject of her choice.
She did not come out of the room even after half an hour when word was sent to her to stop writing. Her brother was pacing outside. After great persuasion, she stopped
writing.
Spell check
I had a shock when I got her written script. It had just four sentences. Obviously, she had no sense of grammar, spelling and syntax. Worse still was a candidate who appeared for the post of proof-reader. He had already exhausted all his chances for the civil services examination. Imagine, the IAS-aspirant could not even spell the words "Prime Minister"!
Why blame him? A job aspirant, who could neither speak nor write in English wanted to be
considered for the post of a
district correspondent.
What this implies is that a candidate should know his limitations while aspiring for jobs.
All said, facing an interview is difficult. It can be made easier if the candidate remembers some basic rules: Be punctual for the interview; dress elegantly for the occasion; brush up your knowledge; look into the eyes of the interviewer; be truthful; don't make empty promises; learn about the potential employer, their business, strength, weakness etc; be confident; and show earnestness, not desperation.
It pays to say thanks to interviewer
Sending a thank-you note after a job interview—or failing to—makes an impression on many prospective employers. According to a CareerBuilders.com survey of more than 650 hiring managers:
About 15 per cent of hiring managers would not hire someone who failed to send a thank-you letter

32 per cent would still consider the candidate, but they would think less of him or her.

26 per cent of managers expect to have a thank you in hand two days after the interview
— LAT-WP