Fortnightly Quiz-248
1 What is the new name of Indian Airlines?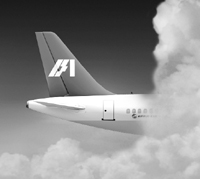 Face of the future

2 Where did the trade ministers of member countries of the WTO meet recently to discuss issues like farm subsidies, industrial tariffs and removal of trade barriers etc?
3 Which high court in the region recently celebrated its golden jubilee?
4 Name the maker of the longest-running religious serial on Doordarshan 'Ramayana' who died recently.
5 To which country does the Miss World 2005 belong?
6 What new name is proposed to be given to Karnataka's capital?
7 Which world-famous theatre in Moscow, renowned for ballet performances, is undergoing renovation?
8 Which day marks India's victory over Pakistan in the 1971 war?
9 What was the rank of India in the recently concluded Champions Trophy Hockey Tournament?
10 With which sport is Shiv Kapur associated?
11 Who recently created a world record in Test cricket by capturing maximum wickets in a calendar year?
12 Who is the president of the International Cricket Council (ICC)?
13 How many Indians have scored 8000 runs in Test cricket?
14 Which country recently created world record by successfully chasing 332 runs in a one-day international cricket match?
15 In how many Tests did Sachin Tendulkar break Sunil Gavaskar's record of 34 Test hundreds?
Name`85`85`85`85
Class`85`85`85`85
School address ........`85`85`85
Winners of quiz 247: The first prize by draw of lots goes to Sahil Kumar Taneja, VI, City High School, VPO Chang, district Bhiwani, Haryana-127027.
Second: Dhruv Jain, VIII-A, Ritambhra Public School, Sunder Nagar, Ludhiana-144004.
Third: Sahil Soni, XI (non-med), CRC Govt SSS Rehan, VPO Rehan, tehsil Nurpur, district Kangra-176022.
Answers to quiz 247: Vijaypat Singhania; Angela Merkel; 27; E. Sreedharan; Kinnaur; South Korea; Valletta; Magnetic Ink Corrector Recognition; Dubai; Shivraj Singh Chauhan; Cricket; Roger Bannister; Sachin Tendulkar; Sharad Pawar; Brian Lara.
Cash awards of Rs 400, 300 and 200 are given to the first, second and third prize winners, respectively. These are sent at the school address.
Note: Kindly mention the pincode of your place to facilitate the delivery of the prize money.
Answers can also be sent at quiz@tribunemail.com
— Tarun Sharma