Let Yuletide spirit flow free
It's that time of the year again when you let your hair down and dance to the thumping beats of celebrations in discs and nightclubs. For making the Christmas Day a big success, Saurabh Malik tells you how to decorate your house, and about the gifts available in the market, along with the joints you should be seen in.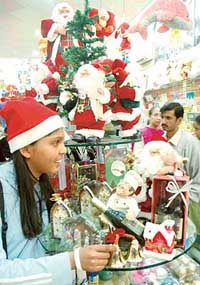 Christmas is already here and you still haven't decorated your house. Well folks, it is never too late. Just drive down to any card or gift shop in the city and take home Christmas decorations for celebrating the festive spirit.
To begin with, go in for an impressive Christmas tree for adoring a corner of your room for the big day. Jewels in Sector 11 is selling trees imported all the way from China. Even the Indian ones are there, but they are not all that attractive.
In case you wish to go in for "elaborate trees", pick up the ones with glowing needle tips. You can also buy the revolving trees by pulling out something like Rs 2,000 from your wallet. "The tree is worth the price," says Raman of Jewels. You can also buy the less expensive ones without burning holes in your pockets.
Dawson House in the same sector is also selling trees. In fact, you can buy it for anywhere between Rs 39 and Rs 600 depending upon the size and the quality. The owner, Krishna Sahoonja, says the height varies from one feet to six feet. The Garden Store in Sector 8 also has a nice collection of trees.
Also remember to buy glittering bells in gold and silver. Hang them from the tree for that special Christmas effect. Buy other decorations also, like miniature Santas, drums, gift boxes and even felt stockings. Do not forget to pick up buntings and twinkling star. The stuff is available in almost all gift shops in the city. You can also buy it from some of the shops in Sector 20, 22 and 23 without pulling out much from your wallet.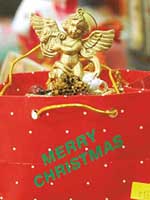 Saying it with cards

You have said it with chocolates, wished each other through the short message service. Now take out some time and buy a nice card for your loved one for Christmas. Nay, we are not talking about the electronic cards sent through e-mails. But the ones available in the card and gift shops all over the city.

"No matter what people say, nothing can beat a nice printed card sent through the snail mail," says young business executive with a multinational organisation Rajiv Bhasin. "It has its own charm. You can keep it on the desk in front of your eyes, constantly. Or else, preserve it along with other memoirs of love, clandestinely. The choice is entirely yours".

No wonder, the thirty-something has purchased a bundle of nice cards with chuckling roses from an Archies Gallery in Sector 22. In fact, he has already posted quite a few cards to his friends and relatives. Catering to the wishes of Bhasin and so many others, the gift shops are full of cards for celebrating the Yuletide spirit. "You have the ones depicting the birth of Christ, besides the ones with other religious scenes," says Krishna Sahoonja of Dewson Greetings in Sector 11. As lovers look for an opportunity to express love, there are ones for the young couples also with nice romantic messages. They are not very expensive either. You can buy them for anywhere between Rs 10 and Rs 100. And if your friend has a funny bone, there are humorous cards just for him. So guys, pick up the cards now and Merry Christmas.

Dress to celebrate

Glam up girls. Forget all about denims, even the ones embellished with rich zardosi. Damsels of the world are taking out nice body hugging lycra tops for wearing them over long-breath inviting short skirt with twin tantalising slits on either sides.

The guys can shake, rattle and roll in worn-at-knees, even in suits with the latest cuts. Anything. For dancing dames, nothing less than ah-aspiring short skirts will suffice. Having doubts? Ask Anuradha Kohli. She is hell bent upon twisting and shouting on the polished dance floor of life to the deafening beat of bhangra music in sinfully sensuous minis.

Make no mistakes; she has already picked up an adorable black skirt - with ribbon piping. The demoiselle plans to team it with a cheerful red halter neck top. And of course net stockings. Has picked up high heel ankle boots too. The under-grad is sure chill will not freeze the thrill. In any case, she is not averse to zipping up a nice faux leather jacket if the cold gets unbearable. "It will only glam up my garb," she asserts before flashing a bright smile.

Tilting her head just a little bit, Kohli confesses: "My previous year's salwar-kameez with zari work at the borders is all starched, folded, and neatly stacked in the closet of my memory. Never to be taken out, again. At least not during the formally casual parties. At home, I can consider donning it. Outside, no way".

Her best pal-cum-neighbour Vasudha Chaudhary is contemplating the same. She plans to descend on the illuminated floor in a layered skirt for adding that extra swish. "I will wear it with a toon-inspired red sleeveless girle top with nice little beads under a black jacket," she whispers, "When tearing excitement breaks lose and the spirits are high even without booze, the jacket will go off the shoulder, up in the air," jabs the postgraduate student.

For the two, feeling the warmth of party gladrags around their beauteous self wasn't easy. The duo suffered with grace the pangs of temptation for good three months. Pushed chicken-in-a-bun, even black currant ice creams, out of their restless secret dreams, just to save Rs 6,000. They succeeded, fortunately.

"The skirt turned out to be more expensive than I could have ever imagined - Rs 850. But then I was lucky enough to get the top cheap from Janpath in Delhi," chirps Chaudhary. "It was the leather jacket that burnt gaping holes in my handbag".

Well gals, the two are good and ready. What about you? What minis excite a frown on daddy's wrinkled-with-experienced face. Worry not, city-based fashion designer Reshmi has a solution. "You can twirl around the floor in saucy red tie-and-dye drawstring pant with black belt and a top of the same hue. Else, wear gowns. This is not all. You can cut foot loose in wrap-arounds, bright long dresses, even formal suits with a lot of buttons," she suggests.

Another thing. Just remember to wear a nice little Santa cap with your dress for celebrating the Yuletide spirit. It's in. Now kids, what are you waiting for? Waste no

time and get ready for the big show.

Gift that Christmas spirit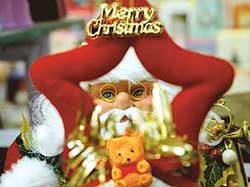 Love is an expensive affair. Just over a month ago, you gave her a box of expensive chocolates imported all the way from Switzerland after borrowing money from your pal. Though you haven't even returned the dough to your friend, and she is asking for another gift. Well, guys, here is a complete guide to Christmas shopping complied to make your job easy:
Gift her a nice singing and foot tapping Santa - in Chandigarh all the way from China. You can buy it from Jewels in Sector 11. The owner, Raman, says you can take home the stuff by pulling out anywhere between Rs 150 and Rs 3000 from your wallet.
Or else, you can present her nice cheerful Santa caps with twinkling lights that enhance the glitter. The caps are available in gift shops all over the city and are not very expensive either. They can be had for just Rs 45.
Candles continue to be a rage. Gift aromatic candles, or the ones moulded into chuckling flowers. Tie them in bundles with a nice ribbon or stack them in a festive box. Include an appropriate candleholder. Dewsons is also offering nice little perfume bottles and other gifts specially packed for the occasions. "You can also take home Christ on the cross, besides decoration pieces depicting the Yuletide spirit," says the owner, Krishna Sahoonja.
For coffee lovers, fill a cup with packets of different flavours or even coco, along with chocolate-covered spoons. Select a cookbook for homemakers. Place it with dry ingredients in a decorative basket.
Beaded necklace with a sterling silver chain can also be presented to girls. Cute and cuddly teddies are a girl's best friend. Gift them the ones with interesting messages. Perfumes make great gifts.
Homemade gifts from the kitchen will impress your friends and relatives. Fill up jars with your homemade jams and jellies. Or else, make and gift special ornaments for the Christmas tree with glue-on beads and faux jewels. Try making your own felt stockings. Just ensure they are large enough to hold a bottle of wine or homemade salad dressings.
Photos make great gifts. Try taking pictures of events throughout the year or of one special activity. Place them in an attractive album with comments. Picture frames are also in. Go in for twin photo frames with heart motifs.
Make theme or hobby baskets. Fill them with goodies. If you are oven friendly, bake your finest pound or rum cake. Wrap securely and place it in a decorative tin. It will not take more than an hour for you to finish the job.
Wine connoisseurs will enjoy a set of wine stoppers. Wristwatches, designed specially for the occasion in cheerful shades, can also be gifted. Album of carols, specially complied for the occasion, are in. If your friend has a CD player, buy him a disc. Otherwise cassettes are there for you. Walkman is another good gift. Phew! You have so much to choose from. You can also go in for mistletoes available in all shapes and sizes. The ones embellished with pinecones and other dry fruits are a bit expensive. They are available for approximately Rs 600. The cheaper ones are also available.