Ludhiana's maiden mall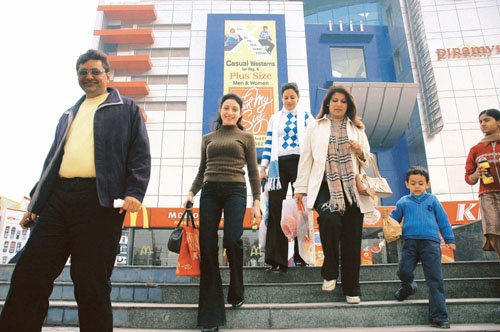 Four storeys of extravaganza have been thrown open to Ludhianvis, who are relishing the novel experience.
Shveta Pathak on Ludhiana's first mall, which is visited by thousands every day, and 20 more such temples for shopaholics that will come up in the region in the next two years.
Plush interiors. Soft background music and good food of "international quality". Does not sound like a shopping area, does it? Yes, it does. And that, too, in our very own industrial town of Ludhiana. To say that the first shopping mall north of Delhi (with Gurgaon as an exception) is a reason to cheer for not just Ludhianvis but for people across the region too would not be an exaggeration.
Over 8,000-9,000 people visit the mall every day. This number goes up to 18,000 on weekends, confirming that the newly opened luxury has been well received by people in this region. Incidentally, it has taken six years, from the time the first mall in the country came up in Mumbai, for a mall to come up in Ludhiana.
Ansal Plaza opened in October this year. Four of its six floors are operational. The remaining two would be opened to public within a month and a half. The top floor would have a family entertainment centre along with a food court, while the fifth floor would house two restaurants.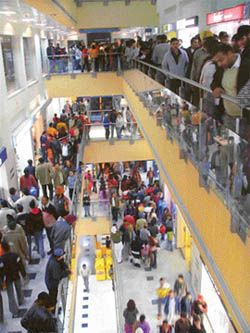 More than 9000 people visit the mall every day. — Photos by Inderjeet Verma
And, its arrival is being treated as a pleasant change from the overcrowded old bazaars where one jostles to steer one's way through or the newly opened shopping complexes that offer expensive products and little variety. The mall has brought in the taste of a different world to the residents of this industrial town.
For 17-year-old Prerna and her friends the coming up of the mall puts an end to their complaint of the absence of a good hangout. They would no longer have to wait in those never-ending traffic jams to go from one place to the other to get their favourite branded outfits or accessories. Their craze for shopping in Delhi also seems to have faded with the shops to be explored at the mall.
The joy is not restricted to youngsters. Besides serious shoppers, many visit the mall to do some window-shopping and to enjoy the ambience. So there are students, office-goers, kids, housewives and even elderly people thronging this new place. Homemakers have been finding this one-stop shopping paradise a blessing. Reeta Malhotra, housewife, says she feels relaxed that now she can get "good shopping material" all under one roof. Now when her NRI guests or friends from Delhi visit her, she enjoys taking them for shopping and eating out at the mall. She is glad there are outlets of McDonalds and KFC. The latter, by the way, is yet to open outlets in Delhi, Mumbai and Chennai. The kids too have their share of fun in the plush environs of the mall, which has escalators.
Wholesome treat
"In a place like Ludhiana, commuting is a problem. We were happy when stores of branded garments and eating joints came up in areas like Sarabha Nagar and the Mall Road, which are relatively easier to access. However, even that failed to solve the problem which a customer faces going from a shop located at one end of the city to another located at the opposite end. With the shopping mall, I find it very convenient to compare and buy clothes of my choice. Earlier I had to wait for a friend to accompany me, but now I just take my daughter as she too enjoys eating at McDonalds or KFC," says Seema Rajiv Mehra, a resident of Sarabha Nagar.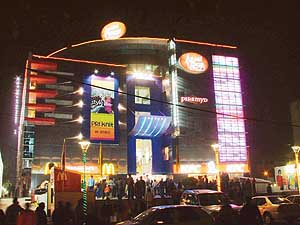 Ansal Plaza, spread over 1.5 lakh square feet, marks the entry of several big-time retailers to the region. Whereas currently over 35 stores are operational, the coming few weeks would have 52 outlets. The mall has top-of-the-line brands, including Pyramid, Nike, Levis, Lee Cooper, Arrow and Pepe London. Shortly, there will be a food court and a family recreational centre called Jammin. Besides, cultural activities would be held regularly, says Suneal Mangal, director of the Ansals group.
The well-heeled in Ludhiana, known for high-spending habits, earlier went to other cities not only for shopping but also to savour the mall experience they offered.
The overwhelming response has come as a surprise to the company. "We knew we would get the benefit of being the first movers in this industry, but the response is actually many times more than what was expected," says Mangal.
The parking space, which currently caters to some 100 cars, would be increased. The company has procured some plots near the mall as the parking problem in the area has become a bit tough to handle.
Besides catering to the "need" of having a mall, the convenience of location is clearly an advantage the company is enjoying.
What people love
The mall is not just for the richie-rich Punjabis. There are people from varied age groups and different income categories. The reasons to like the place are more than one. "I like the open space outside where one can just sit and relax," says Rama Sharma, a student who is a regular at the mall.
The growing metropolitan culture is also contributing to the increasing number of mall-goers. As more and more banks and multinationals are strengthening their presence in the region, a large number of people from various parts of the country and even abroad are settling here. In contrast to the normal trend of shopping and eating out in groups, now one can spot a large number of singles shopping and even eating alone in the mall." It is safe as I can freely roam around, do window shopping at ease and even eat alone," says Jyoti, who works in a leading private bank.
A number of mall visitors also come from towns around Ludhiana. The Sandhus, who come from Jalandhar to shop at the mall, say: "We have seen a couple of malls in Delhi and Noida, but how could we miss the mall that has come up in our own state? It is a nice place. We have even brought our guests here."
Initial glitches
Though most of the first-time visitors to the mall are left wide-eyed, frequent visitors complain that the mall isn't spacious. "The walkway is not broad enough. In malls at other places, including the Ansals outlet in Delhi, the space between stores is much more. But here, one feels constricted," Geeta Bector of Cremica Foods points out.
Cultural change
Opinions differ on whether it is the malls that have induced a cultural change or is it the changing culture that the malls are catering to.
"It seems shopping behaviour has changed. The display of items makes it convenient for customers to select and compare what they like best. Besides, branded products are sold on MRP, which remains the same irrespective of the place," opines Arvind Bhardwaj, deputy stores in charge at Pyramid. The mall, he adds, has ushered in a cultural change.
"As markets have been growing, something appeared to be missing here as there was no luxury mall. The mall has not only lent quality to shopping experience but has also beautified the area where it is located," says S. P. Oswal of the Oswal Group.
Realty boom
The coming up of new buildings has led to a steep rise in real estate prices in the region. Two more malls are coming up near Ansal Plaza and the region is likely to have at least 20 more luxury malls and cineplexes within the next two years. This realty boom is attracting more investors, assert market experts.
"Initially when a lot of malls announced their opening, it was thought it would take a couple of years, at least five, for business to pick up. But the mood is upbeat now seeing the way people have taken to the first mall," says Ashwani Sharma, an investment adviser.
Building of infrastructure is a good trend, feels Oswal. "It would contribute towards growth of economy apart from benefiting the customer."
The Ansals group has decided to come up with another mall in Ludhiana. "The second mall, with cineplexes, would have double the space, 3 lakh square feet. It is expected to come up in two years."
The other malls that are coming up include Westend Mall, MBD Neopolis, Subhi Mega Mall and Arenes. Says Bector: "It is a good change. But it is only the beginning, I am sure much more would follow... this is merely a glimpse of what luxury malls in other places are offering."
Given the popularity of the present mall, it remains to be seen how residents in this region would respond to the other 20 malls coming up two years down the line. Market experts are sceptical and so are corporates. "How can all the malls be successful? There would have to be some shedding out. People will have to come out with innovative strategies apart from following good mall management practices to retain and attract customers," says Mangal.
Even as investors are busy working out business details, customers cannot have enough of the new experience.