Design dictums for a dazzling Christmas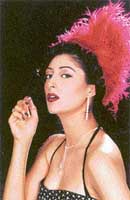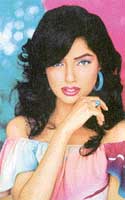 It's not just the X-mas tree but also your attire that calls for much attention. Anandita Gupta spills some spicy info about the snazzy Christmas ensembles available in town.
Donning Santa's mantle, 'it' has come riding on the reindeer sledge, gleefully cutting through the snow-capped mountains. And as you embrace it with open arms— making those mistletoes glitter, hanging strings of popcorns 'n' cranberries to your Christmas tree and stuffing those stockings with delightful goodies, there's some more pampering 'it' craves for. Wondering what's been talked about. It's not the good old Santa Claus for sure. Nonetheless, it's as cute and cuddly, no less.
Not dragging the suspense any further, lemme tell you that we our referring to the 'festive partying' here, that's rocked our city, disguised as the adorable Santa. So folks, what this feverish party mood calls for is decking up right.
Colour me wild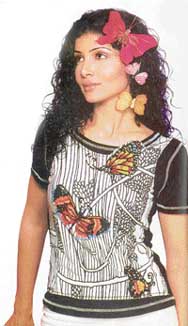 For a sudden leap into limelight, get hue-dipped as a butterfly. Create a look that's a mosaic of delight and intrigue. Get wrapped in a surreal riot of colours— Sultry blacks, oranges, wines, blushing beige, Sunflower yellows, pepper reds, inky blues, Turkish coffee to ginger, peony pink and blushing rose. Mulls over designer Dimpi Gujral, "There's no better way to celebrate Christmas cheer than getting colour speckled. Hence, there's a generous use of hue dipped embellishments on my Christmas collection." And what are the embellishments she's played with? "Sequins, metals, coins and suede," she concludes.
Hot Pick
Sleek and sultry spaghettis teamed with a warm tweed overcoat and embroidered corduroy pants.
Wrap up
Let your massive crinkled skirt sway right into the Santa's heart. "A multi paneled skirt and other skirts of the voluminous ilk (that twirl and swish as once sways to the party rhythm) is a great idea for this Christmas. Opines Panchkula based designer Nidhi Bajaj, "Pleated and frilly skirts are doing the rounds of fashion circuits this season. Team them with fitted tops for that frilly-flouncy look" But how to beat that bone rattling chill? Smiles Nidhi, "My answer to that is the special Capes and stoles I'm designing for the festival. These Capes are exquisite and rich, embellished with metal trimmings; feathers and a crystal broach each! On stoles, I've played around with fur, feathers, beads, velvets and pompoms," she winks naughtily.
Hot Pick
A Knotted shrug from her prêt collection called 'Blush'—A blood red stole with black feathers and satin trimmings!
Alive 'n' Kicking
Spell an 'I've-arrived' look. Go for the voguish things with versatility written on them. Create breathtaking ensembles by mixing and matching Sequined Brocade pants, Chanel style leather jacket, boots, tie-up stilettos or even scrunched boots in suede and leather. Designer label Oomph at Chandigarh offers snazzy skirts in metallic copper, chic skirts in silks, georgettes and crepes and jackets with jazzy cuts.
Hot Pick
A Chocolate corduroy dress with cuts as smart as the definition of prêt!
Richness redefined
To make Santa sit up and take notice, try these breathtaking ensembles by city-based designer Salil Gulati. The stuff is desi Indian, of course, but in a Westernised avatar. Laughs Gulati, "Today, Indian clothes are more westernised than western outfits themselves." So, on offer are smart suits and designer sarees. Not to miss the feverishly high glamour quotient— rising hemlines, falling necklines, backless bustiers and strappy somethings.
Hot Pick
Bandgala fitted suits with dust-like mukaish, Swarovskis and antique work sparkled here and there, adding shine, no more, no less. Pair them with tasseled stoles and chunky flip flops and voila!
Well, the designers around town have spun magic, no wonder. They've created Christmas ensembles that are perfect for that blue-blooded streak in you. But don't ask the prices. For, then, you may hesitate entering their studios. And even if you do, you'll surely come out with empty pockets!