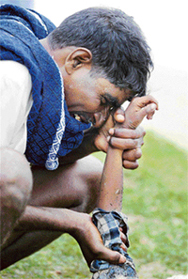 After the wave
The people of the tsunami and quake-affected regions of Tamil Nadu, Kerala, and the Andaman and Nicobar islands take stock a year after the disaster that killed 2,30,000 people across several nations. A.J. Philip reflects on that tumultuous day and the immediate aftermath of the tragedy, while Sridhar K. Chari finds that affected families are still in the process of locating firm ground under their feet.

What do you do at the Chandigarh airport on a Sunday afternoon waiting for a flight? Visit the BBC site on the mobile. The news had just come in: hundreds feared killed as "tidal waves" hit Indonesia. Every two minutes or so, the BBC was updating the news. The toll figures were going up and among the countries hit was India. The BBC was consistently referring to "tidal waves" or "sea surge" till late afternoon that day, which means neither its editors in London nor its correspondents in the countries concerned, knew the word tsunami.

Madonna & Mughal art
Far from capitulating to western cultural superiority, Mughals took European material culture and put it to work for themselves, writes Dhananjaya Bhat
In the Chhatrapati Shivaji Maharaj Vastu Sangrahalaya in Mumbai, also known as the Prince of Wales Museum of western India, there is an unattributed 17th century Mughal miniature of Madonna with Infant Jesus, with priests of different religions, especially Hinduism revering the Child.

Darbar on Christmas
Ramesh & Asha Seth
Every year on December 25, Darbar -e-Khalsa is organised by the International Institute for Gurmat Studies of Los Angeles to celebrate the birthday of the 10th Guru Gobind Singh. Since December 25 is a public holiday in America, therefore people are free to attend the Darbar with their families.

City of churches
Harinder Singh Bedi recounts his visit to Vilnius where the old jostles with the new
Nestled on top of Poland and Belarus and below Latvia and sandwiched between two parts of Russia—on the East being Russia proper and to the West being the Kalingrad region of Russia—is the lovely state of Lithuania.

Yuletide yarns
Optimism, goodwill and bonhomie, that's what Christmas is all about, and that's what the best Christmas movies of Hollywood have celebrated, writes Vikramdeep Johal
Being the ultimate feel-good festival, Christmas has always appealed to film-makers in Hollywood. Scores of family dramas and comedies have been set in "the most wonderful time of the year."

TRIBUTE
Sagar: A writer's sensibility
Despite the numerous box office hits that he delivered as a producer and director, Ramanand Sagar did not probably craft any film that came remotely close to going down in the history of popular Hindi movies as an epochal cinematic creation.

An epic drama
The Weeping Meadow is set against the backdrop of World War II and the Greek civil war. It is an example of visually evocative filmmaking, observes Ervell E. Menezes
Theo Angelopoulos' The Weeping Meadow is set in most part in a tiny Greek village of Thessaloniki and is centred on Elini (Alexandra Aidini), a Greek immigrant from Russia who elopes with an unnamed man (Nikos Poursnidis), son of her much older fiance, Spyros (Vasili Kalovos).

A neat little film
A 30-minute documentary on Shimla is a lesson in ecology
Urbanisation and development takes its toll on a good number of quaint old places and they are never what they used to be. Shimla is one of them and Vivek Mohan, who was born and grew up there, bemoans this aspect in For Whom the Jingle Bells Toll?