PUNJAB

HARYANA

JAMMU & KASHMIR

HIMACHAL

REGIONAL BRIEFS

NATION

OPINIONS

MAILBAG

BUSINESS

SPORTS

WORLD

Monday, December 26, 2005, Chandigarh, India
Updated at 3:00 am (IST)
Delhi mall cave-in leaves 11 dead
New Delhi, December 25
Eleven contract labourers were killed and at least five others are still feared trapped in yesterday evening's cave-in at an under-construction shopping mall in Jasola village in South Delhi.

Tsunami scare: few attend midnight mass
at Basilica
Vailankanni (Tamil Nadu), December 25
Not many attended the midnight mass at the Church of Shrine Basilica last night following last year's tsunami here in which 615 pilgrims died while taking a holy dip in the sea.


Archbishop calls for universal peace


World page: End conflict, urges Pope


CAST YOUR VOTE
Do you approve of Sourav Ganguly's inclusion in the Indian cricket team touring Pakistan?


CHANDIGARH

LUDHIANA

JALANDHAR
New

DELHI

JALANDHAR PLUS

AMRITSAR PLUS

LIFESTYLE
New

FORUM

EDUCATION

JOBS & CAREERS

HEALTH & FITNESS

SCIENCE & TECHNOLOGY

SPORTS

SOCIETY

TRIBUNE CLASSIFIEDS

BRIDES WANTED

GROOMS WANTED

OTHERS

HOW TO PLACE ADVTS


Top Al-Badr commander killed
Srinagar, December 25
A top commander of Pakistan-based Al-Badr was among four militants killed by the security forces while a militant was arrested in the state overnight, an official spokesman said.
Police rescues child after more than 2 years of abduction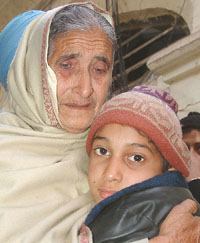 Amritsar, December 25
For Bawa Singh and his ailing wife it was a Christmas gift. They were re-united by the police with their son Jaspreet Singh after two and half years of abduction. Jaspreet (10) was abducted by Ashok Singh of Ghanupur Kalen village from near his house on the Sultanwind road.

Jaspreet Singh with his maternal grandmother in Amritsar on Sunday. — Photo by Rajiv Sharma


Quote
"A united humanity will be able to confront the many troubling problems of the present time: from the menace of terrorism to the humiliating poverty in which millions of human beings live.''
— Pope Benedict

Fog upsets flight schedules
New Delhi, December 25
The bitter cold exacted two more lives in Uttar Pradesh and pushed the death count to 71 today as thick fog dampened the festive spirit of travellers, disrupting air, rail and road traffic for the third day running.


In video (28k, 56k)



Delhi page: Thick fog throws normal life out of gear


Chandigarh page: City flights cancelled yet again

'Bhera' performs feat to propitiate deity
Shimla, December 25
It was amidst beating of dhol-nagaras that Kanwar Singh safely crossed the 350-long grass rope as over 50,000 people who were assembled in Bachhunch village to witness the "bhunda mahayajna" watched with bated breath. Being held after a span of 70 years, the mahayajna is organised to propitiate the local deity, who protects the locals and helps bring prosperity in the area.
FLASHBACK 2005
Power sector seemed jinxed in 2005
Shimla, December 25
It has been a bleak year for the power sector in the hill state as the reforms took a back seat and the 1500 MW Nathpa Jhakri project, the country's largest hydroelectric venture, ran into rough weather within days of its inauguration by Prime Minister Dr Manmohan Singh, on May 28.



E - Revolution 2005:
A Two-day IT conclave

Assembly Elections - 2005

Turbans

Chandigarh is 50

EARLIER FEATURES
2 Haryana trucks torched in Assam
December 25, 2005
11 MPs expelled from Parliament
December 24, 2005
Curfew in Morena after BSP leader's murder
December 23, 2005
Expel 10 exposed MPs, says Bansal panel
December 22, 2005
MPLADS scam rocks Parliament
December 21, 2005
WTO pact to boost farm exports
December 20, 2005
42 die in Chennai stampede
December 19, 2005
Capt hints at debt waiver for farmers
December 18, 2005
Bomb scare in Parliament
December 17, 2005
Indo-US N-deal reciprocal: PM
December 16, 2005