Spinning his way to the top
He is back with a bang. Abhijit Chatterjee on Harbhajan Singh's resilience and never-say-die spirit on the pitch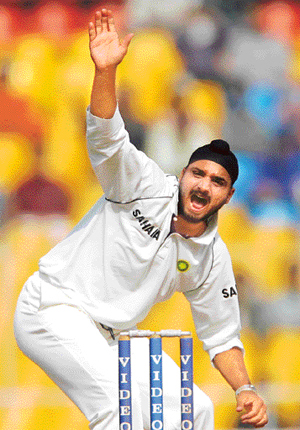 As the Indians ran away with an emphatic 2-0 over the hapless Sri Lankans at Ahmedabad, one person who would have been licking his fingers, both literally and figuratively, during the prize-giving ceremony would be a tall young man from Jalandhar who answers to the name of Harbhajan Singh. Harbhajan, called Bhajji by his teammates and friends, not only picked up the Man of the Match Award at Ahmedabad but also ended the series with a haul of 14 wickets at an average of 22.28. But even more than the wickets was the fact that India's star spinner had got his confidence back.
Harbhajan played a stellar role in the series as Indian cricket was undergoing a great upheaval and was trying to find its moorings under a new captain and coach. In combination with yet another Indian great Anil Kumble, Harbhajan, whom the opposition likes to call the Turbanator, tormented the visitors all through the series. But Ahmedabad, where Bhajji was playing the 50th Test of his career, was something special. He ended the match with a superb haul of 10 wickets at a cost of 141 runs. He claimed seven for 62 in the first innings and then returned to pick up three more in the second. In fact the visitors were tormented by the Indian spinners throughout the series, a fact acknowledged even by the pundits as Kumble picked up the Man of the Series Award.
The off-spinner from Punjab has indeed come a long way. Just prior to the series against Sri Lanka (which in effect was reduced to a two-match series after rain played the spoilsport in the first Test at Chennai), he was in an indifferent form, struggling hard to find his rhythm and his wicket-taking ways. In Zimbabwe, where India played a two-Test series, his haul was just six wickets at an average of 31. That Harbhajan was struggling was apparent from the fact that the Zimbabwe team was hardly Test class and had players who at best could have played club cricket. He might have been a great supporter of his then captain Sourav Ganguly (he was the only player who came out openly in support of his captain during the latter's infamous spat with coach Greg Chappell) but his spinning fingers were surely deserting him.
But things are different today. He now looks as lethal as he did in the 2000-01 series against Australia, when he claimed 32 wickets in just three matches at an average of 17.03. And for this he must thank Chappell, who was able to restore his lost confidence in his cricketing abilities. His long stints at the nets, his pep talks with the coach and the confidence which the team management placed in him has paid great dividends not only to the bowler but to Team India as well.
Bhajji's road to glory has not been one of roses. In his younger days he was sacked from the National Cricket Academy for indiscipline. And mind you, this sack came after he had already turned out for India against Australia. Another player to be removed about the same time was Railways' Murali Karthik. But while Murali's removal came due to an injury, Harbhajan's indiscipline really hurt the then director of the academy, Hanumant Singh, who belonged to the old school of thought and held the view that no player could be bigger than the game.
Besides indiscipline, it is his bowling action which has come in for a lot of scrutiny over the years. Even this year while playing for Surrey in the English county league, he was called by umpire Peter Willey. But, luckily, this time it was treated as a one-off incident and no action was taken thereafter. And even this season ICC match referee Jeff Crowe slapped a fine on him for his gestures against South African batsman Ashwell prince in a one-day match at Hyderabad.
Soon after making his international debut in the 1997-98 season, Harbhajan was reported for suspect action in 1998 and underwent remedial work under former England off-spinner Fred Titmus and was, subsequently, cleared by the ICC. But in December, 2004, there was trouble over his action yet again. His doosra was reported by the umpire during the Chittagong Test against Bangladesh.
Two month later in February, this year, he went to Australia and underwent a test by biomechanics, who said his doosra was within permissible limits. He was reported yet again during the Test against Pakistan in March this year at Kolkata but was subsequently cleared.
Harbhajan has gone on record to say that all this doubt about his action had brought in a creeping disbelief in his cricketing abilities. The credit for his recovery and return to wicket-taking must go to Ganguly, who trusted in his ability totally, and now Rahul Dravid and Chappell.
The fact that he could recover and regain his wicket-taking ways speaks highly of Bhajji's resilience. He is combative and not willing to give an inch — attributes any cricketer would be proud of. And things look rosy again not only for Harbhajan but also for his team as India get ready for yet another tour of Pakistan. With Kumble, he makes a wonderful spin pair and this is one reason why the Pakistanis are saying that they would prepare pacy wickets for the Indians. They know that Harbhajan and Kumble could make things really hot for them.