MUSIC ZONE
High and low notes of '05
Gaurav and Saurabh take a peek at the world of music this year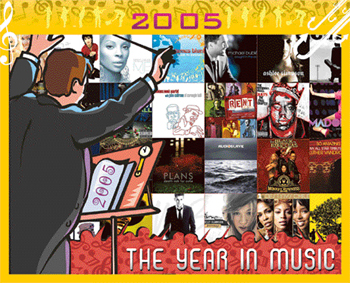 January


Elvis Presley's One Night became 1,000th No.1 single in the UK.
A member of Nickelback since 1998, drummer Ryan "Nik" Vikedal quit the Canadian rock act.
Jermaine Dupri named president of Virgin Records' Urban Music division.
R&B artist D'Angelo is charged with drunken driving and drug possession.
February


The late Ray Charles won eight awards at the 47th annual Grammy Awards.
U2 vocalist Bono considered for nomination for the Nobel Peace Prize.
After 20 years, alt-country rock act the Jayhawks announced its disbanding.
March
U2 opened its worldwide Vertigo tour in San Diego.
Top-selling gospel singer Donnie McClurkin announced he was retiring from the music business after his last album.
Slipknot drummer M. Shawn Crahan launched his own label, Big Orange Clown Records.
Backstreet Boy Nick Carter arrested for drunk driving in Huntington Beach, California.
April
Kenny Loggins and Jim Messina reunited for a summer tour, their first in nearly 30 years.
Switchfoot, the Crabb Family and Casting Crowns won big at the 36th annual Gospel Music Association Dove Awards.
After a decade together, British rock act the Delgados disbanded.
Major winners at the Billboard Latin Music Awards included Paulina Rubio, Juanes, Los Horoscopos de Durango and Los Temerarios.
May
Carrie Underwood was crowned winner of the fourth season of the Fox series American Idol.
Two members of the UK rock act The Cure, keyboardist Roger O'Donnell and guitarist Perry Bamonte exited the group.
Australian pop singer Kylie Minogue successfully underwent breast cancer surgery.
An Indiana songwriter sued Britney Spears for copyright infringement, claiming he wrote the song Sometimes 15 years ago.
June
Michael Jackson found not guilty on all counts in his Santa Maria, California, trial on charges of child molestation.
Seven years after his death, rap legend 2Pac earned the first UK No. 1 single of his career with Ghetto Gospel featuring Elton John.
Billy Corgan announced his intentions to "renew and revive" Smashing Pumpkins.
July
Live 8 series of concerts were held in London, Philadelphia, Paris, Berlin and Rome to bring attention to international debt, aid and trade issues.
Nelly scored a deal with Reebok to release a signature collection of footwear.
A financial company sued pop star Michael Jackson, claiming that the singer owed the company $48 million for rescuing his stake in the publishing rights to songs by the Beatles.
Legendary R&B artist Luther Vandross dies in Edison, New Jersey.
August
Eminem entered rehab after it was revealed he had a dependency on sleep medication.
Madonna celebrated her 47th birthday by breaking a collarbone, a hand and cracking three ribs in a fall from a horse in England.
Marc Cohn, best known for his hit song Walking in Memphis, was shot in the head in Denver after an attempted car-jacking, but he fully recovered.
September
Rock act Korn inked a deal with Virgin, which included a partnership with parent company EMI.
A heart condition caused Nine Inch Nails drummer Jerome Dillon to be hospitalised twice during the opening dates of the band's fall tour.
Courtney Love was sentenced to 180 days in jail for violating her probation.
October
In an attempt to steal his Lamborghini, three gunmen shot rapper Cam'ron in the arm.
Haitian-born Fugees principal Wyclef Jean signed a deal with HBO to produce and star in a comedy series based on his life.
Infinity named former Van Halen frontman David Lee Roth as a replacement for Howard Stern.
Eminem sued five ringtone companies over the use of his songs without permission.
November
Rock acts Black Sabbath, Lynyrd Skynyrd, Blondie and the Sex Pistols and jazz legend Miles Davis were announced as the 2006 class of Rock and Roll Hall of Fame inductees.
Madonna topped The Billboard 200 for the sixth time in her career, with her new album Confessions on a Dance Floor.
A collection of Bob Dylan poems, written while he was a Minnesota college student, sold for $78,000 at an auction of rock and pop memorabilia.
December
Fans worldwide lay flowers and light candles to honor music icon and peace activist John Lennon 25 years after his murder outside his New York apartment.
Elton John tied the knot with Canadian born filmmaker David Furnish.
Foxy Brown's lawyer revealed that the rapper is almost totally deaf.
With eight nominations each, Mariah Carey, John Legend and Kanye West lead the field for the 48th annual Grammy Awards.