Saal(am) Namaste
Year 2005 brought loads of cheer and colour to the cityscape. Chetna Keer Banerjee captures some of the action, with a filmi twist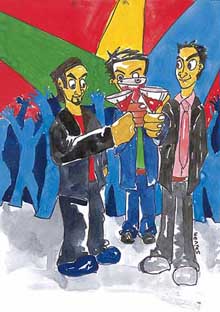 If 'Bunty aur Babli' scorched the big screen and 'oye bubbly' was hot on the small screen, there was fizz and froth in the city's air too. There was bounty unlimited as wine festivals got flowing at various hotels and the Chandigarh Wine Club get-together got uncorked at Chimney Heights, on the city's outskirts. The spirits of the hip crowd also bubbled with excitement as the lounge bar Athena opened at Fun Republic. This gave them another place to take a swig, swing and sing, 'Bar, bar dekho.'
While Athena raised the Bar on enjoyment, the new Café-17 in a leading hotel had a lot brewing too. The situation was so fluid that a Chai Bar could be the next big thing.
Yo! entry
 There was plenty cooking on the food front. It was 'Enter the dragon', with a slice of the Big Apple, as Yo! China brought a cuisine that was Chinese, but style that was American. Its USP—-(oriental) flavour at the speed of fast food—-made it a case of chopsticks chasing the clock. 
Adding to the Oriental fare was the Taj's Chinese restaurant Black Lotus, giving the moneyed class more Manchurian to munch.
If momos were biting into the burger's market slice, a new specialty restaurant made pasta give pizza a run for its money. Pomodoro, the Italian restaurant at The Piccadilly, dished out not only flavour but also fragrance with its in-house herb garden.
From Swagath to Al Kareem and Mongolian menus to live cooking, there was fresh fare on the gourmet's platter. Yet there was a hunger for more specialty cuisines. Say, Lip-smacking Lebanese. Or Just Japanese. Ummm, some food for thought.
The Rising
The tricity showed promise of Rising on the fashion map of the country with the inauguration of the mega $ 1.2 million fashion technology park (FTP) and a Business School of Fashion (BSF).
After the UBS (University Business School), the BSF became the second B-school in the city. It has been designed for another kind of rising. The rising hemlines of Indian fashion. Set to add fashionocrats to this city of bureaucrats and technocrats, the new school got hope rising among those in need of suit-able talent.
And the FTP meant a new (ad)dress not only for fashion gurus like J.J. Vallaya or Rana Gill, but for all those who can cut a long story too short or spin a new yarn.
Dharam masala
 The never-ending star trek from Bollywood and Tollywood spelt good news for the Indian Idle too. For, many a city youth bunked classes to 'Just Chill' watching Katrina Kaif. Or got ready, not for college, but for a glimpse of Mahima Choudhry or Sameera Reddy.
With the Great Tinsel Town Tour wrapping up with Garam Dharam & Co, City Beautiful's shooting ranges got more taste of movie masala.
The cityscape's reel potential turned into real opportunity as land for a Film City was earmarked and CITCO set up a Bollywood facilitation cell. And with a conclave in Mumbai discussing cinematic tourism in Chandigarh, the script for its new role as a shoot-at-site destination was almost written.
Shaadi No 1
Theatre buffs got plenty of comic relief. Even as the curtain went up on plays good and bad, comedy was the flavour of the season. The stage was set for the Great City Laughter Challenge. And the Theme No 1 was the 'Comedy of Errors' called shaadi.
For, if Poonam Dhillon came looking for 'My Perfect Husband', Rati Agnihotri pleaded, 'Please Divorce me Darling'. And Mandira Bedi and Samir Soni felt marriage was about "Anything but Love".
Anant Mahadevan, Ayesha Jhulka and Divya Dutta (e)spoused the theme 'Mujhe Rang De', while Jitendra Mittal's 'Salim Sherwani ki Shaadi' wowed with its tale of wedding vows. As English and vernacular theatre both were winners in this laughathon, it showed that a laugh riot can be sparked by any language.
Salwar mein twist
 The czars and czarinas of couture not only gave the city's fashionistas a peek into stylized salwars and seem-less saris, they even floored them with carpet-inspired prêt lines.
If the creation by Rocky S rocked the ramp, Suneet Varma not only brought new designs but also memories of the famous 'Babli lift'. Tarun Tahilani's collection inspired from West Asian Killim carpets made the rug-ged look arrive on the catwalk. From the Blenders Pride Fashion Tour to the Fashion Knowledge Forum, though the robes showcased couldn't have made it to the commoners' wardrobes, all's well that ends (with) Wendell. Even as the style gurus left their stamp and went, some signature stores like Satya Paul came to stay.
Aashiq Banaya Aapne
This year, the craze for Harry Potter peaked as his sixth book was launched at the peak of summer. But this was a literary romance that was powered a lot by purchasing power and prestige value. As children and adults went berserk procuring 'Harry Potter and the Half-Blood Prince' for a princely sum, it was clearly an instance of 'Harry met Salary'.
Proclaiming ownership of the latest Potter title became a fashion statement at kitty parties. Being first with the latest Potter facts enabled many among reading-challenged glitterati to pose as the literati.
As for the city's real book lovers, barring the stray book exhibition, book launch or visits by authors like Nigel Collett, Shiv Khera or John Keay, there wasn't really anything new in English writing to write home about.