India: The Tasks Ahead
SPECIAL SUPPLEMENT

Chandigarh, September 24
"The world wants India to succeed." This was stated by the Prime Minister, Dr Manmohan Singh, here today while inaugurating the 125th anniversary celebrations of The Tribune. Unlike some of his predecessors who used to blame external agencies for any internal problem in the country, Dr Manmohan Singh was candid enough to acknowledge that the bottlenecks were not external, rather they were internal.
Prime Minister Manmohan Singh releases the special supplement on the 125th anniversary of The Tribune in Chandigarh on Saturday. Justice R.S. Pathak, President of The Tribune Trust (left), and Mr H.K. Dua, Editor-in- Chief, are also seen in the picture. — Tribune photo by Manoj Mahajan
Strengthening India our aim: H.K. Dua
Chandigarh, September 24
The Tribune will support all policies that are aimed at making India a great nation. At the same time, it reserves the right to criticise where necessary.
A secular voice of the people, says Justice Pathak
Chandigarh, September 24
Over a century and a quarter ago, The Tribune was brought out with the goal of raising the level of education in the region. The vision of Sardar Dayal Singh Majithia for the newspaper was to act for public welfare, present public opinion, and advocate the cause of the masses.
Commemorative postage stamp
Chandigarh, September 24
A commemorative stamp to mark the 125th anniversary of The Tribune is likely to be issued early next year by the Department of Posts. This information was given by the Editor-in-Chief, Mr H.K. Dua, at the inaugural ceremony of the anniversary at Chandigarh today.
Readers and caretakers share the joy of togetherness
Chandigarh, September 24
Anniversaries are special occasions that come wrapped in varied colours - colours that remind of a past made vibrant by persistence; colours that celebrate a present fired by commitments of the past and colours that paint a future in obscure yet exciting patterns.
FURTHER IN THE DAY
Centre to study demands on airport, thermal plant
Chandigarh, September 24
The Prime Minister, Dr Manmohan Singh, today promised that the Central Government would enable investment in infrastructure in Punjab. As a first step he promised to get examined the demands for a high-speed rail corridor, an international airport and a thermal power station in the state.
PM foresees Chandigarh as front-runner in IT
Assures Centre's support to Punjab on biotechnology corridor
Chandigarh, September 24
The Prime Minister, Dr Manmohan Singh, today inaugurated the Rajiv Gandhi Chandigarh Technology Park, the first IT sector park in the country with a Special Economic Zone status. The technology park that has attracted top multinational companies like Infosys and DLF is expected to generate huge employment in the IT, BPO and service sectors.
Prime Minister Manmohan Singh talks to officials at the inauguration of the Rajiv Gandhi Chandigarh Technology Park in Chandigarh on Saturday. — Tribune photo by Pankaj Sharma
Media tower: PM takes the middle way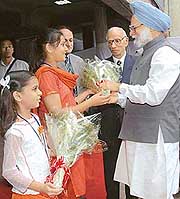 Chandigarh, September 24
The Prime Minister, Dr Manmohan Singh, chose to tread the middle path while dealing with the controversy arising out of the proposed media tower project launched by the Press Club here today.

Prime Minister Manmohan Singh being welcomed at the 125th anniversary celebrations of The Tribune at Bhargava Auditorium, PGI, Chandigarh, on Saturday. — Tribune photo by Pradeep Tewari



City turns into fortress


Gallantry award winners meet PM


City important for region's growth


Cong men take potshots at ministers as PM listens


Scribes seek new wage board


Sidelights: Children's date with PM

| | |
| --- | --- |
| Mr Jagtar Singh Sidhu, President of the Chandigarh Press Club (extreme right) hands over the honorary membership of the club to Prime Minister Manmohan Singh at a function on the club premises on Saturday. Also seen in the picture are Punjab Chief Minister Amarinder Singh and Haryana Chief Minister Bhupinder Singh Hooda. — Tribune photo by Pankaj Sharma | Prime Minister Manmohan Singh shares a light moment with Prof K. N. Pathak, Vice-Chancellor, Panjab University, at the 125th anniversary celebrations of The Tribune at Bhargava Auditorium, PGI, Chandigarh, on Saturday. |
| Mr N. N. Vohra, Tribune trustee (extreme left), a former Army chief, Gen V. P. Malik, and former Chief Minister of Punjab Parkash Singh Badal at the inaugural session of the 125th anniversary celebrations of The Tribune, on Saturday. | Mr Pawan Kumar Bansal, local MP, and former MP Satya Pal Jain with the Editor-in-Chief of The Tribune group of papers, Mr H. K. Dua. — Tribune photos by Pradeep Tewari |