CONTENTS
Ensuring democracy
H.K. DUA, Editor-in-Chief

Reform of Parliament
Subhash C. Kashyap

Parties in disarray
Pratap Bhanu Mehta

Judicial independence
Fali S. Nariman

Responsive governance
N. N. Vohra


Fighting corruption
N. Vittal


Criminalisation of politics
B.G. Verghese

Strategic vision
K. Subrahmanyam

India's global role
M.K. Rasgotra

Neighbours and friends
S.D. Muni

Economic roadmap
Pranjoy Guha Thakurta

Energy for progress
S. K. Sharma

New agriculture
S. S. Johl

Save the cities
Jagmohan

Water use and waste
Ramaswamy R. Iyer

Science in the 21st century
R. A. Mashelkar

Lessons in education
K. N. Pathak

Empowering women
Mrinal Pande

Problem of numbers
Ashish Bose

How to protect environment
Darryl D'Monte

Health of the nation
Usha Rai

MEDICARE
Majority remains in poor health


Usha Rai
Open any glossy magazine today and there are wonderful stories on fitness clinics—men and women on treadmills, diets and recipes galore to keep the hard worked corporate executives fitting fit, brain ticking on fruit juices and protein-high nuts, nutritious salads and cold cuts.
Health tourism and medical tourism are the buzzwords as patients in search of specialised surgeries and healthcare troop into the country for repair of heart, eye surgery, replacement of kidney, knee or hip, in search of ayurvedic oil massage and herbal medicine. With technology, the five-star hospital culture has seeped into India and is here to stay. No longer is it just the Arabs coming in droves for Mumbai's upbeat and efficient medical facilities at Jaslok and Breach Candy. Pakistani children are being flown into Bangalore and Hyderabad for the most intricate heart surgeries, opening up new roadmaps for friendship between nations that had been estranged for several years. People in the UK and other countries, too, are finding that medical care in India is comparatively cheaper than in their own country and, more importantly, reliable. Private doctors in smaller towns too are cashing in on the five-star hospital culture for the foreign bhai.
India ambles at two levels — the bullock-cart age and the jet age of information technology. In the sphere of health, too, there are these distinct spheres. While the best of medical care and facilities are available for those who have deep pockets, for the common man, particularly in villages and small towns, there is just no medical care.
Poor facilities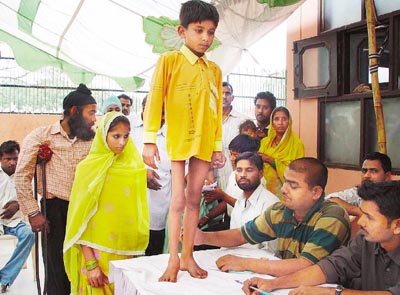 BIG CONCERN: The situation is grim for children. Every year, two-thirds of children under the age five die of acute respiratory infections and diarrhoeal disease. — Photo by Malkiat Singh
A countrywide survey conducted a few years ago (RCH Facility Survey—first round) had found that less than 50 per cent of the Primary Health Centres had a labour room or a laboratory and less than 20 per cent had a telephone. Less than a third of these centres stocked iron or folic acid, a very cheap but essential drug.
Four years ago this journalist had the opportunity, rather the misfortune, to see first hand the dismal health facilities in rural Uttaranchal. A team of journalists and population experts whose jeep had rolled down a khud, killing one person, had to be rushed to the nearest hospital which was the district hospital at Bageshwar. The hospital had no toilet, telephone or basic facilities like an x-ray machine. Patients had to be carried in makeshift stretchers to a private doctor, just outside the hospital for an x-ray. One of the x-ray films showed that an injured man had two broken ribs. In fact, he had six broken ribs and was in agonising pain. It is only after being moved to an army hospital close by that he was told about the gravity of the injuries suffered.
So, is it any surprise that a large proportion of the rural poor do not visit these health centres not unless they have to? They prefer to spend their limited resources running to private doctors or to quacks who fleece them. About a quarter of all hospitalised Indians fall below the poverty line and 40 per cent become indebted because of hospitalisation. Many just drag themselves to the big cities and the bigger hospitals for proper diagnosis and treatment. They live in ashrams or the streets of the big cities waiting for audience with the doctors and running around for various tests.
In fact, the World Bank has documented the impact of healthcare on the economic status of Indians. "India is still a very poor country with around 44 per cent of the population earning less than a dollar a day. The poorest 20 per cent of Indians have more than twice the rates of mortality, malnutrition and fertility compared to the richest 20 per cent. However, India has one of the most privatised healthcare systems in the world with less than a fifth of all healthcare expenses coming from the government." In the UK, the share of government spending is over 90 per cent, in Sri Lanka it is 45 per cent and in the US 44 per cent.
Spread of TB
Despite the great strides on the economic front and a booming stock market, India is home to 60 per cent of the leprosy patients and 42 per cent of the deaths each year are due to communicable diseases. India has been tackling other ailments like tuberculosis, malaria and water-borne diseases like typhoid and gastroenteritis for decades now but it has not been able to contain them. In fact, there has been a resurgence of TB and malaria.
It is estimated that one person dies of tuberculosis every minute. The deadly falciparum malaria has been decimating tribal populations in Orissa, Madhya Pradesh and Jharkhand. Now with 5.1 million HIV-infected people in the country, opportunistic infections like tuberculosis and malaria, unless detected and treated in time, herald a quicker death.
The situation is equally grim for children. Every year, two-thirds of children under the age five die of acute respiratory infections and diarrhoeal disease. Water-borne diseases are rampant and about 10,000 die of cholera. There is the new frightening phenomenon of AIDS orphans, children who have lost both parents to the HIV infection. Many of them are HIV positive too and paediatrics drugs for treating them are not available.
The general insanitary condition in our small towns is reflected in the hospitals too. There are stories of pigs picking up and chewing up a new born baby in a hospital with poor sanitary facilities. Dogs and monkeys lurk around hospital corridors, frightening patients and defiling the environment. Cockroaches surface regularly in hospitals and even in operation theatres.
Even when money is pumped in, the results are just not visible. The World Bank gave Uttar Pradesh $110 million for the UP Health System Development project. This was to improve the district hospitals and medical colleges of the state. Yet, some 500 deaths have been reported in the state from Japanese encephalitis in the last two months.
Finding funds
Privatisation of rural health services is worrying and this is happening because of the inefficiency of the public health services of the country. Lack of financial resources is the reason given to justify failure to restructure the public health system. But even when it is provided the results are not commensurate. How can the government fulfil its promises when it spends less than the African countries on healthcare? The budgetary allocation for health has declined over the years and the annual per capita expenditure on public health is a mere Rs 200.
In India preventive services take a back seat to curative care. States which bear 75 to 90 per cent of the burden of public health spending, have their funds largely tied up in 'non-plan' salary expenditure, leaving little room for essential drugs, operations and maintenance of the public health facility.
However, all is not lost. A great deal of hope is pinned on the National Rural Health Mission (NRHM), flagged off by the Prime Minister this year. The mission aims to integrate the different vertical health programmes; decentralise healthcare service delivery at the village and improve inter-sectoral action. The mission is expected to make a substantial reduction in maternal and infant mortality and communicable diseases in the next four years. The NRHM is focussed on 18 states, including the seven Northeastern states and the 11 states of northern and eastern India. An overall increase is expected in the health budget. It is expected to go up from 0.9 per cent of the national budget to 2 to 3 per cent.
The NRHM holds the promise of a village health plan that will be drawn up by members of the community in partnership with the auxiliary nurse midwife (ANM) and anganwadi worker. The mission also has provisions for employing nearly three lakh rural women health workers called Asha, who will provide frontline healthcare to the community. She will have responsibility not only for simple remedies like the oral rehydration mix but she is expected to motivate families for clean water, sanitation and safe pregnancy and delivery. She has indeed tremendous responsibilities for emergency services that are not available outside the cities for complication in deliveries and India accounts for a fourth of all maternal deaths worldwide.
Provision of curative services at the peripheral level is an area of weakness of the present government healthcare service delivery. The NRHM's emphasis is on prevention of ailments and infections but there is an acute shortage of doctors at the peripheral level. Under the NRHM, curative services are to be strengthened from the village upwards. The Community Health Centre is to be strengthened as a rural hospital so that emergency surgery and hospitalisation is possible round the clock. Protocols and standards for curative services are to be codified into Indian Public Health Standards to ensure quality of care.
But in India there has always been a mismatch between wonderful plans that remain on the drawing board and the action on the ground. We hope this will not happen. Now that reproductive health services have been integrated with general health services, the emphasis on targets for sterilisation etc has to go. If basic health facilities are provided to rural India, people will control their fertility.
There has been enough of tokenism. Sufficient funding must be found to make the vision of the NRHM a priority. Let people be given a stake in ensuring the success of the NRHM.
— The writer, a senior journalist, specialises in development issues.