Food Talk
Feast for the eyes too
You should enjoy the party on New Year's Day as much as the guests. What is placed on the dinner table should look special, says Pushpesh Pant
PARTIES, before they are fun, can cause a lot of headaches — and many of these are related to recipes. During the festive fortnight, there is a real risk of encountering and coping with jaded palates. Much sleep is lost brooding "will the guests wince when they have a sneak preview of the delicacies spread and somehow force a smile that shouts d`E9j`E0 vu loud and clear?"
We have learnt by experience to serve more then one thing 'new' when planning our menus — improvising on classical themes (whenever within reach, eschewing the temptation to desperately grasp but not to fight shy of experiments that can't hurt).
The most important thing not to forget is that you should enjoy the party as much as the guests. Translate this to mean that long hours of 'sweat and blood' should not be spilt in the kitchen. And, what is placed on the dinner table should look special —out of the ordinary — without exotic-sounding identity tags that mask leftovers in a buffet.
Finally, there are friends with good taste and ample means who believe there is nothing that compares with intimate one-dish meals — we disagree most respectfully. That is the stuff Sunday brunches are made of. The precaution that you must take is to lighten the meal adequately. Let the variety provide the riches, not the artery-choking fat. We share with great pleasure two of our favourites. Happy eating and Happy New Year!
rangeen kashtiyan
Ingredients
Sweet bell peppers medium
(two red and two yellow) 4
Button mushrooms
(cleaned well and chopped) 200 gm
Dried herbs: parsley,
rosemary and thyme
`BD tsp each
(You can replace these
aromatic herbs with others
of your own choice, just take
care that nothing
overpowers the taste of
mushrooms)
Vegetableoil 2 tbsp
Salt to taste
Method
Heat the oil in a large flat frying pan, add mushrooms, sprinkle the herbs with salt and cook on medium flame till the moisture evaporates. Do not allow the mushrooms to dry completely. Make boats by cutting the peppers in halves and removing the core. Scoop spoonfuls of herb mushrooms into these colourful boats.
Sweet, brilliantly hued flesh — cold to touch and refreshingly raw — of the peppers provides the perfect foil for the subdued yet subtly seductive khumbi.
Best of all, both the dishes — feast for the eyes — don't chain you down in the kitchen and are easy to tame.
Gobhi ka keema
Ingredients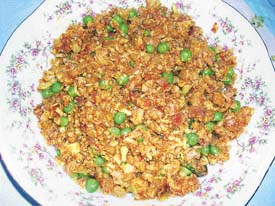 Cauliflower (large, washed well) 1kg
Peas (fresh, lightly boiled and shelled) 200 gm
Garlic paste 1 tbsp
Ginger paste 1 tbsp
Medium onions (sliced fine) 4
Medium tomatoes (chopped fine) 4
Cloves 4
Black cardamoms 2
Cinnamon stick 1 inch
Bay leaf 1
Kashmiri red chillies 1 tsp
Zeera powder 1 tsp
Haldi powder `BC tsp
Garam masala 1 tbsp
Each of mace, and nutmeg powders `BC tsp
Vegetable oil 4 tbsp
Green chillies (slit and deseeded for garnish) 4
Salt to taste
Method
Make a mince of the cauliflower — resist the temptation to grate! Heat oil in a thick-bottomed pan and when hot put first the bay leaf, then the cloves, peppercorn, cardamom and the cinnamon. When these begin to change colour, add the sliced onions and fry till light brown. Now put in the ginger and garlic pastes and stir fry for a minute or so, then add the tomatoes with the powdered spices. Keep frying till oil separates. Add the cauliflower mince, and the peas, mix well, reduce heat to low medium and cook covered, stirring regularly. Do not add any water. Remove form heat when the gobhi keema still has some bite. Garnish with lightly fried green chillies and onion rings.