Wanderlust takes over
Travel is on top of the agenda now for Indians who are all set to experiment and sample the exciting destinations of the world, reports Komal Vijay Singh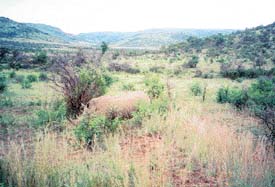 Tourists at the Sun City (Top) and rhino sighting in South Africa, which became a travel hotspot after the World Cup
NOT a long, long time ago, the average Indian was known for his frugal ways. Anyone who spent money on ghoomna-phirna or travel-shravel was either categorised a dolt or a spendthrift. Vacations translated into going to the place where naanke-daadke (maternal and paternal grandparents, respectively) lived. Attending a wedding in the family was considered a good enough outing. A trip to the hills was undertaken by the adventurous few. But then Time gave a makeover to us and our thinking. Now, how well travelled you are and how far you have travelled is considered a sign of how much in sync with the times you are. And, packing your bags to go to naniís place to surprise her may be a bad idea. Naniji may very well have signed up for a pilgrimage destination tour with a clutch of friends.
Munish Dhawan, AGM, Sales, Sony India, says the phenomenal sale of handycams and digital cameras is proof of the wanderlust that has taken over Indians. He believes they have slowly but surely realised that travel is the best form of exposure and education. And all the quality time spent outside the routine builds up a fund of memories. Thick travel supplements have become a staple with a newspaper. With a booming economy and the Incredible India campaign of the Ministry of Tourism proving to be a big hit the traveller is being wooed like never before.
There are special tour packages to suit every taste and every pocket. Adventure Tour, Elephant Safari, Camel Safari, Desert Trail, Heritage Tour, Deccan Odyssey, even Solar Eclipse Tours. The list is endless and mind-boggling. Varun Prakash, an income tax official, says his family has decided to travel north, south, west and east within India by turns. Ajay Aggarwal, a newly married sales executive, says, "With Air Deccan and Spicejet giving dirt-cheap air tickets, I plan to make the most of this bonanza. Thank God, one can think beyond Shimla, Manali and Mussoorie now and yet not burn a hole in oneís pocket."
He has already availed a Glorious Goa package for honeymooners but has now set his sights on romancing in Rajasthan. His colleague, Sumit Ranjan, believes it is the royal retreats of erstwhile maharajas that will be hot in the coming years. The setting, the exclusiveness, the hospitality there win hands down. Places like Taragarh, a property of the Kashmir royal family near Palampur in Himachal or Ramgarh hunting lodge, belonging to the Jaipur Royals and taken over by the Taj Group near Jaipur, are in scenic surroundings and promise a five-star experience at a fraction of its cost. TV serials and movies are also popularising places abroad with not only the song-and dance routines being picturised there but the story also shifting gears to a foreign locale.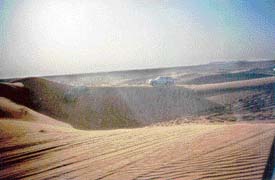 The desert safari makes a trip to Dubai special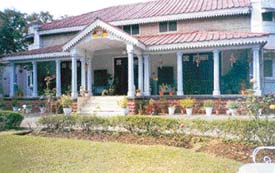 Taragarh palace near Palampur is a perfect getaway
At best, travel abroad earlier meant visiting oneís relations settled in USA, Canada or England. These hotspots are now considered okay for getting an education abroad or a well-paying job but it is the good olí favourite, Europe, and countries like Egypt, Turkey, New Zealand, Australia and South Africa that have emerged as the favoured destinations for the new-age Indian traveller. A holiday abroad is not something that one has to scrimp and save for and plan out as a once-in-a-lifetime opportunity. Now, one can travel as much as one wants to without ever feeling the pinch. A bright economy, decent disposable incomes, tourist visas for the asking, special packages being offered to the Indian traveller, liberalisation of travel regulations and foreign exchange, constantly lowering airfare costs have given a heave-ho to the Indian traveller to pack his bags and get moving. Rajesh Singh of Dewan Worldwide Holidays says Malaysia and Singapore are the countries which the budget traveler wants to travel to for the first holiday abroad. The high-end, travel-smart guy will obviously ask for an exotic locale, the less frequented by others the better. He says they have special, customised exotic packages for the discerning traveller. With travel and tour operators vying with each other to give a better and more outworldly deal it is the customer who is in a win-win position by being able to pick and choose and bargain still more.
Whatís even better is that the travel-now, pay-later schemes put travel abroad in the realm of the present rather than something to dream about. Hardly a day passes when the average Indian is not besieged by more-than-eager bank executives dishing out details of a holiday loan. A Thomas Cook India executive reveals the Cricket World Cup positioned South Africa as a hot destination in the minds of the Indian tourist.
It offers the best shopping, the best hotels, wildlife and exotica that one can ask for. Whether it is Australia or South Africa, Goa or Kerala, the travel-besotted Indian is fast catching up with the others in seeing the world and revelling in its sights. Itís the time to travel.