televisioN
Laughter's the best award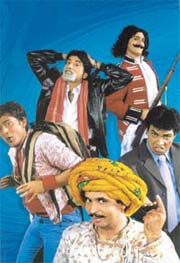 Star-Screen Awards' five funny faces
It is that time of the year when big becomes bigger. Taking the festive cheer into 2006, Star Plus is all set to host the Star-Screen Awards in January but with a difference. The channel has invited the famous five comic talents of the Great Indian Laughter Challenge to entertain viewers in a show called Bindaas Mumbaiya Ishtyle.
The five comedians — Naveen Prabhakar, Ehsaan Qureshi, Raju Shrivastav, Bhagwant Mann and Sunil Pal — will regale not just viewers but also a live audience comprising Bollywood stars.
The Star Screen Awards Nite generally considered an event of serious competition and speeches has been in need of some laughter and lighter moments. Which is why the channel has selected these funny five to entertain viewers.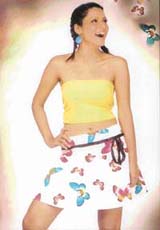 Simple Kaul: Dream run on television
Simple Tiger
"It is very funny. Every time I make an entry, there is a roar of a tiger in the background," says Simple Kaul, who plays the role of a college girl nicknamed Tiger in Hungama TV's new Monday to Friday skit at 7 p.m.
Delhi girl Simple who also plays Reema in Yeh Meri Life Hai on Sony is ecstatic with her transformation from a struggling to an in-demand star.
Ever since Shama Sikander has been missing in action because of a bout of ill health, the scriptwriters have shifted the focus on Simple.
"I wish Shama a speedy recovery, but Yeh Meri Life Hai has worked wonders for me," says Simple, adding that "I am also getting a lot of ad campaigns everyday." Now she's hoping the same magic works on the small screen as well both on Sony and Hungama.
Cool dude Amit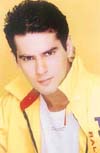 Amit Verma: Rising popularity
Despite Hotel Kingston going off the air, he has retained his popularity. Amit Verma is going great guns these days. His new show on Sahara Kittu Sab Janti Hai may not have got sizzling reviews but his performance has been noticed.
"I am sad that Hotel Kingston had to go off air. I was very attached to the show. But then, life must go on." It sure has for Amit.
Starting his showbiz career four years ago, this model-turned actor has many commercials to his credit, including Thumbs Up, Lifebuoy, VIP, Surf, Airtel, Kinetic Nova. His TV break came with Khichidi on Star Plus which he says was a great learning experience.
And now its films for Amit who will be playing the lead in Detective Nani a crossover film about life in a crowded residential complex. "I play a cool dude whom girls love." Now that is as close to life as it can get considering Amit's name is being linked to a number of girls.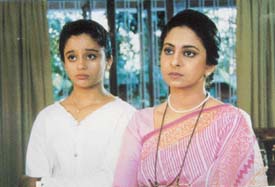 Shefali Shah (right) in Hasratein
Back in the frame
Remember the determined Saavi of Hasratein? Shefali Shah (nee Chaya), who gave memorable performances in serials like Haqeeqat, Rihhaee and Sansani, may have gone off the TV screens for a while but is now back with a bang in Sidhanth on Star One and Kehna Hai in Sony.
Interestingly, she's making more news on the Bollywood front. After playing the gangster's moll in Satya and the violated Ria in Monsoon Wedding, she's done a pivotal role as Amitabh Bachchan's wife in Waqt — Race Against Time.
Such was her performance that she's now deluged with offers that include among others, the role of Kasturba in another film titled Gandhi. "I am not enamoured with the number of roles.
It's quality that matters." Which explains why Shefali is such a sought after actor both on small and big screen? — NF
No boom on Kaboom
Despite being the bane of high-minded critics, the latkas and jhatkas of Boogie Woogie on Sony appealed to a certain section of viewers. But luck seems to have run out on Ravi Bahl and Naved Jaffery, the duo that has also produced and anchored a similar dance show Kaboom on Star Plus.
Over the past few weeks, the show has had a number of stars but that too has failed to lift its fortunes. First came Vivek Oberoi who was followed by Sridevi. Neither of them could do much for its popularity.
Kaboom recently tried a Mother's Special where moms between 35 and 62 performed on stage. The special judge for the evening was Tabassum.
"It was great to see the tremendous energy in women of this age group," says Tabassum. But sadly the energy of these spirited ladies did not translate into TRPs making it an exercise in futility.