ulta pulta
High hopes
Jaspal Bhatti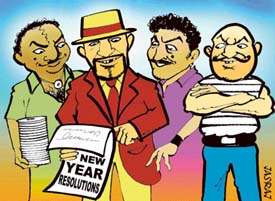 THESE days resolutions made by the common man make no sense. What we resolve at the onset of a new year does not affect our society. Everybody wants to know what the VIP's or the high and mighty have resolved for the coming year. I have designed a list of some of the kingpins and what they hope to achieve in 2006.
Kidnappers — A kidnapper might resolve that he will do at least 50 kidnappings in the coming year.
Kidney merchants — A kidney merchant will be determined to hike his sale by at least 20 per cent in the next year.
Video pirates — A serious and committed pirate will pledge that if he does not illegally make one lakh copies of a hit number, he will give up his profession.
Paper leak agents — They will pledge to serve the weaker sections of students by leaking the papers well in advance so that the students get enough time to arrange cash for the question papers.
Corrupt politicians — He will swear never to accept less than one lakh per question in the future.
Land grabbers — His attempt will be to create a greater nexus with politicians and the police to grab government land.
Honest policemen — These people in the minority will aim at countering all kinds of corruption and mafia networks, but the biggest tragedy will be that nobody will believe them.