Gudiya
Real to Reel life
Divya Dutta is playing the lead in a film based on the poignant real-life story of Gudiya who met a tragic end on the first day of the year leaving behind a little baby, reports Dharam Pal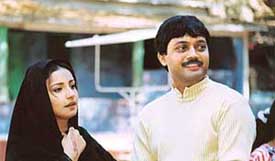 AT THE CROSSROADS: A scene from 'Kahani Ek Gudiya ki' that features Divya Dutta in the lead.
The world of Hindi cinema is one of fantasy and imagination catering to the myriad cultures of the different states of India. There is very little scope for basing stories on characters taken from real life. However, from time to time filmmakers have made an attempt and various leading ladies have excelled in biographical roles.
Old-time cinema buffs still recall the beautiful Leela Naidu playing Mrs. Nanawati torn between a husband and a lover in the famous Nanawati murder case of the Sixties that involved a heroic naval officer killing a friend who had got involved with his wife in his absence. The film was called Yeh Raaste Hain Pyar Ke, comes back to the mind now when a film on the tragic story of Gudiya, the wife of an Army Jawan, was torn between two marriages. Prabhakar Shukla has announced a film on the life of this Gudiya of the present times called Kahani Gudiya Ki. The very talented Divya Dutta had been chosen to play Gudiya on screen. Divya says, "I am very excited about this role. It is indeed the role of a lifetime. I hope I can do justice to the very poignant tale of Gudiya."
The beginning
Let's go over the story of Gudiya. Arif, an Army Jawan, marries Gudiya. It is a happy coming together of two young people who look forward to a lifetime of togetherness. But within 10 days of their marriage, the Kargil War erupts, and Arif has to leave his newly wed wife behind and move to the warfront to save the country. His mother is very much proud of him and so is his wife. However, destiny is playing a strange game.
Days go by and there is no news of Arif. Everyone awaits his return, and then comes the news that Arif is missing on the battlefront. The Army declares him a deserter. It becomes difficult for Arif's family to take this stigma.
Four years pass by and Gudiya and Arif's mother lose hope of ever seeing Arif again. As Arif and Gudiya have been married for just ten days, Gudiya, comes to terms with the circumstances, and consents to marrying her cousin Taufiq.
Twist in the tale
It is bliss for Gudiya at last and Taufiq is a loving husband. Two years pass by and Gudiya is now expecting Taufiq's child – she is eight months pregnant. But fate has other plans in store.
Arif, who was taken prisoner of war by Pakistan during the Kargil comes back as a Hero. Now as he has returned as a hero, Arif wants his wife Gudiya back as he hasn't divorced her. Gudiya and Taufiq are in a very difficult situation. Gudiya has moved on with life.
As per the Shariat Law, Gudiya has to go Arif, though she is also legally married to Taufiq and expecting his child. Gudiya cannot help herself and goes back to Arif, abiding the law. And on Sunday January 1, Gudiya dies in a Delhi hospital following a multiple-organ failure.
The story of Gudiya, is no fiction. IT is the truth and the story of Gudiya in India. The story had such a deep impact on Prabhakar Shukla, an ad man for the last one and half decades, that he decided to reconstruct Gudiya's lie on celluloid.
Says Shukla, "Gudiya's life brought to my mind a lot of questions. Why was Gudiya's choice not asked for? Why was the pressure only on her? What about the child she is conceiving? What about her emotions? There are many unanswered whys and I wanted us Indians to look at the world from Gudiya's point of view. Hence the venture."
All about choice
Now that the film is almost ready, the climax comes in the news of Gudiya's sad death. Shukla wants the audience to participate in thinking what Gudiya's choice could have been. "Gudiya never had a choice," he says.
Adds Shukla, "The real Gudiya's future was decided by the Panchayat. In the film, let the audience decide what is Gudiya's choice. The idea is not to question any decision, but to set forth a thought process that would benefit many other Gudiyas of our country."
The film is shot except for the climax and The theme song is rendered by Jagjit Singh. Other actors in the film are Rajpal Yadav, Seema Biswas, Arif Zakaria, Hema Singh and Akhilendra Mishra. Let's see how the film fares with the audience and how Divya does in this role of a lifetime.