MUSIC ZONE
Album of the month
Robbie Williams ó Intensive Care
(Chrysalis)
Saurabh & Gaurav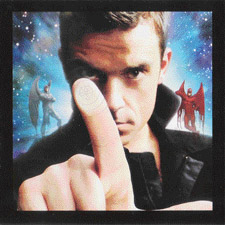 Britainís hottest pop icon moves into a new territory with his latest album. The album careens from arena rock to country to synth-pop to Latin. You G Friend is funny and wacky and A Place to Crash takes the listener back to the hazy days of the Rolling Stones era. Tripping, with its reggae beat, is the catchiest track here, while Make Me Pure highlights Williamsí conflicting persona aptly, particularly in the line Oh Lord, make me pure, but not yet. Thereís a hint of Americana here too, with country-edged guitar riffs vying with sweeping gospel choirs on the confessional Make Me Pure, and a nod to good old southern soul on Spread Your Wings. Advertising Space is the obvious choice for the best single of the album, while the opening song Ghosts and Spread Your Wings give this talented singer the chance to flex his considerable vocal muscle. Intensive Care will, no doubt, add more awards to Williamsí already large collection of accolades. The album is a roller coaster of trite balladry and soaring pop anthems complete with the pre-requisite over-hype that will no doubt irritate his detractors and delight his fans. An album full of catchy hooks that is likely to grow on you and further blow up Williamsís already inflated ego.
Best track: Advertising Space
Worst track: Random Acts of Kindness
Madonna-Confessions On A Dance Floor (Warner)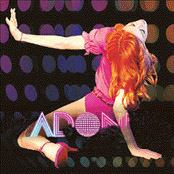 With Confessions on a Dance Floor, her fourteenth album, Madonna reinvents herself. This is Madonnaís most purely beat-driven album since her self-titled 1983 debut. The albumís title and format suggest Madonnaís desire to reconnect with her past as an early1980s club diva image. The first single Hung Up glides on an addictive ABBA sample; Future Lovers pulses with psychedelic flourishes; and Sorry is sure to be a future disco anthem. The bulk of the album is instead helmed by Stuart Price, who, ironically, was responsible for American Lifeís quietest, most sublime moment, X-Static Process. On Get Together, Priceís synths flow moodily, with Madonna asking, Do you believe in love at first sight? The rest of the album can best be described as one long mix tape consisting of Donna Summerís I Feel Love, New Orderís Blue Monday, Blondieís Atomic and Madonnaís own Bedtime Stories. This is one Dance Floor whose pull is irresistible.
Best track: Hung Up
Worst track: I Love New York
Rating: ***
Iím Dreaming Of A White Christmas -Various Artists (Times Music)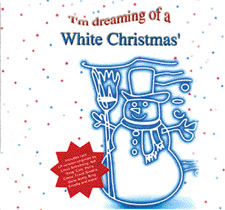 This Christmas album is a warm seasonal affair recorded with orchestral backing and vocals that combines a wide variety of classical and pop holiday songs. Highlights include Bing Crosbyís White Christmas, Nat King Coleís Santa Claus Is Coming To Town, Frank Sinatraís Hark! The Herald Angels Sing, Louis Armstrongís Zat You Santa Claus and Dean Martinís Silent Night. Other contributors include Mel Torme (What Are You Doing This New Yearís Eve?), Mario Lanza (The Lordís Prayer), Gene Autry (Rudolph The Red Nose Reindeer), Perry Como (Winter Wonderland), Judy Garland (Have Yourself A Merry Little Christmas) and Stan Getz Orchestra (Frosty), all adding to an incredible Christmas album. The track It Was The Night Before Christmas winds up the collection, making this compilation a solid choice for those who want a nostalgic Christmas.
Best tracks: Silent Night, Youíre All I Want For Christmas
Rating: ***
Eels-Blinking Lights & Other Revelations (Vagrant)
The latest effort from Eels is a double disc record of epic proportions. The first disc of this double CD jangles nerves with pop songs that analyse personal issues through wider problems facing America. The stunning second disc finds meaning to everything in a series of supernaturally beautiful ballads. In true Eels fashion, the album shifts moods and styles with elegance and subtlety. The opening Theme from Blinking Lights weaves itself throughout the entire record, unifying the varied and diverse moments that remain. On Understanding Salesmen, Everett expresses his fear of an uncertain future without his father (Daddy donít let me down this time / Iím all alone inside my mind / And itís no small thing that I must prove to you). The delicate piano accompanies a nonsensical sing along, each depicting a heart-rending nursery rhyme. As with much of Eelsí best work, however, the tender moments on Blinking Lights often coincide with the most eccentric ones here (Beautiful Freakís Susanís House and Electro-Shockís skittering anthem Cancer for the Cure being two classic examples). The entire 33-song collection is a clear sign that Everettís fuel tank is not running dry; if anything, his momentum is only building. The set closes with the bittersweet personal testament Things the Grandchildren Should Know, an ode to societal awkwardness and detrimental worries.
Best track: Railroad Man
Worst track: Ugly Love
Rating: ****
Britney worst dressed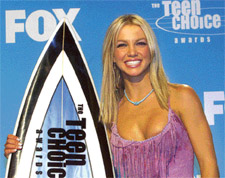 Princess of Pop, Britney Spears, was voted the Worst Dressed Star at the recent T4 Poll Winnersí Party held at Londonís Wembley Pavillion, while No Doubt lead singer, Gwen Stefani bagged the SH! Style Icon award.
Rachel Stevens, who landed up in a sexy black bra top and leather gloves and showed off her brand new bob hair-cut, walked away with the Most Fanciable Female gong.
Singer Peter Andre, who set people rocking to his song, Mysterious Girl, however failed to impress voters, and was voted ĎFlop Mopí of the year. ó ANI