Subtle and sensitive storyteller
Surinder S. Tej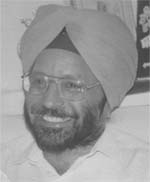 Gurbachan Singh Bhullar, recipient of the Sahitya Akademi Award in Punjabi for 2005
Wedded to literature. The description aptly fits Gurbachan Singh Bhullar, the Punjabi litterateur who has recently been named for the Sahitya Akademi Award for 2005, for his collection of short stories, Agni Kalas. This honour is an apt reward for his untiring efforts in the field of literature for the last 48 years. And it has come without the usual rounds of networking —a practice fairly prevalent in literary award circles.
Better known as a short story writer, and one of the finest among his contemporaries, Bhullar has been a prolific litterateur. His literary output boasts of more than half a dozen collections of short stories, biographies, a book on literary criticism, around a dozen books for children, and translations and transliterations of more than a dozen works of Urdu, Russian, English and Hindi writers, and numerous journalistic pieces. Besides, he has edited two antholigies of Punjabi short stories. He also has a collection of short stories in Urdu to his credit.
Humanist, thoughtful and sensitive to the core, Bhullar's writings are a reflection of his own personality and worldview. His short stories are not limited to certain sections or a particular region, but encompass a wide spectrum of our present social milieu. Having seen the best and the worst of Punjabi rural life as well the bourgeois existence in a metropolis, he tackles the various shades of these cross currents with equal felicity. This ingenuity transcends the barriers of culture and region, lending a rare universality to his endeavour—a virtue only a few of his contemporaries in Punjabi literature can boast of. Fattu Marassi, Opra Mard, Wattar, Tamr Pattar, Morche, Agni Kalas and Teeji Gull are some of his finest stories where words and wit flow through effortlessly. This rare blend of sensitivity and bleakness of reality, coupled with economy of expression and appropriate choice of words, lends an unusual charm to his writings. Chiefly because of this quality, his writings have equally been admired by non-Punjabi readers.
This depth is partly due to his upbringing and natural creative flair. Born in 1937 in Pitho village (now in Mansa district of Punjab), Bhullar developed a taste for literature during his childhood. His father, Hazura Singh, an ex-serviceman, had a keen interest in books and literature. There was a small library at home that contained works of earlier Punjabi poets and writers. Besides, he was a regular subscriber to some of the prominent Punjabi literary magazines. This exposure to literature slowly developed into a passion for young Bhullar who started dabbling in poetry.
In 1956, he sent a poem to Preet Lari, a magazine edited by the legendary Gurbaksh Singh Preet Lari. It was promptly published. This encouraged and inspired Bhullar and the poetic flow went on for the next three years. Then he realised that he could craft his creative abilities better in prose. So, the short story writing took over. Working in the Soviet Embassy as an editor provided him with an opportunity to get acquainted with the best of world literature, especially of Soviet vintage. This experience enriched his creative expression and added more depth to his skill.
Bhullar also had a brush with active newspaper journalism. He remained the Editor of Punjabi Tribune for two years in 1998-99. During this period, he added literary flavour to editorial writing. His Sunday editorials were much appreciated for honest and forthright approach to the issues of the day. These editorials are now available in book form namely Qalam Kataar. Bhullar terms this effort as literary journalism—an apt term for the endeavours of a creative artist for whom literature is not a game for fame but a mean to sensitise the present desensitised souls.