Secrets of Agatha Christie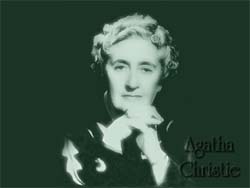 A neurolinguistic study of more than 80 of bestselling mystery author Agatha Christie's works has concluded that the reason her books are so popular, is because her phrases trigger a pleasure response in readers.
The study, named 'The Agatha Project' was conducted by a team of scientists from universities in London, Birmingham and Warwick for an ITV1 documentary, and involved loading her novels onto a computer that analysed her choice of words, sentences and phrases.
The study found that common phrases used by the author raised levels of serotonin and endorphins, the chemical messengers in the brain that induce pleasure and satisfaction.
Dr Ronald Kapferer said that the use of such language made her work 'literally unputdownable'.
"Christie's language patterns stimulate higher than usual activity in the brain. The release of these neurological opiates makes Christie's writing literally unputdownable," The BBC quoted him, as saying.
They scientists further found that the author's use of limited vocabulary ensured that readers were not easily distracted and hence able to concentrate better on the plot of the story.
"It means that readers aren't distracted and so they concentrate more on the clues and the plots," said Dr Pernilla Danielsson of Birmingham University said. — ANI