Food Talk
Go bananas on this
Pushpesh Pant on how vegetarian koftas can be as delightful as their non-veg counterparts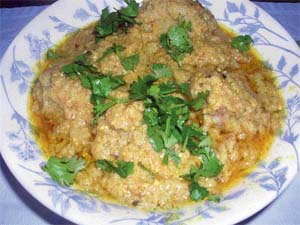 THERE is something about the vegetarian kofta that makes them particularly tempting. Even die-hard carnivores avoid ordering the native meatballs while dining out at fine eateries. On the one hand, there is a lurking suspicion that more than slightly off-colour mince is passed off in this aromatic, spicy garb, on the other hand, the vegetarian version provides infinite variety while mimicking its meaty cousin. Thatís a pity because a kofta curry can be reasonably well made without much hassle once the quality of mince is ensured. The secret is to get mince sans traces of fat and membrane, preferably from leg and not fry the bon bons but poach these in a simmering gravy.
Raja Saheb Sailana, that prince among cooks, has provided some delightful recipes for kofta including Salimsahai and chchui mui (touch me not, aptly named as these crumble easily. The more difficult to master nargisi is rarely encountered and one was most pleasantly surprised to find it on the menu at Karimís in Purani Dilli.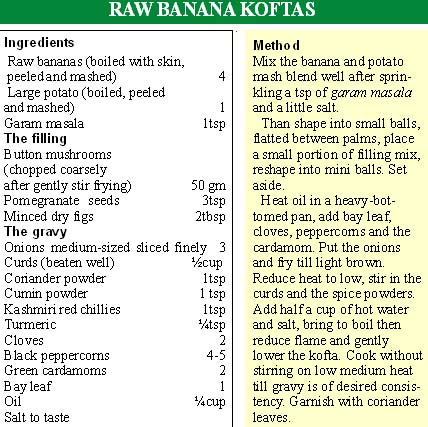 Lauki ke kofte are the staple at home, the shakahari restaurants prefer the malai kofta crafted with paneer, bound with mashed potatoes and enriched (we feel quite needlessly) with khoya and filled with raisins and dried fruits and nuts. At times the overkill does not stop here. A dollop of butter or cream is followed with a generous sprinkling of grated paneer before the guest sets his eyes on this beauty. Then there are koftas made using raw bananas that are stunning as much due to the texture as the novelty of fillings, chopped mushrooms mlange and pomegranate seeds. Lotus stems and yam give this species a run for its money. The spinach adds a welcome touch of soothing green. One recalls with a touch of envy these delightfully different light-as-air kofta served on a bed of scarlet tomato gravy laced with heady herbs by a friend fond of fusing the oriental with the occidental.
A vegetarian kofta should, we feel, rather strongly remain vegetable based and not rely for effect on dairy-paneer, cream or lentils and gram flour. Also, the test of a truly satisfying kofta dish is as much the container as the gravy it floats upon.