Punjabi colours of Bollywood
The growth and development of Hindi cinema owes much to Punjabis. They are pervasive in every area of filmmaking, on and off screen, writes M. L. Dhawan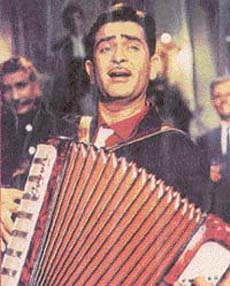 Raj Kapoor brought common man centrestage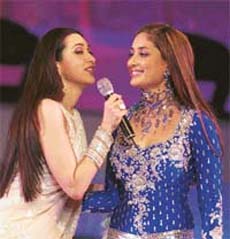 Karisma and Kareena: Carrying forward the Kapoor legacy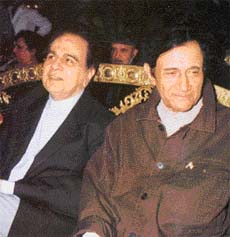 Dilip Kumar and Dev Anand are still icons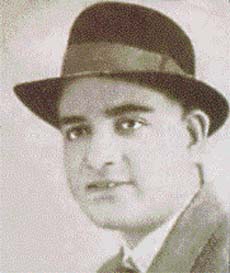 Kundan Lal Saigal had a sonorous voice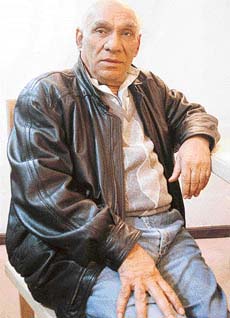 Yash Chopra combines style with substance
THE Hindi film industry has been a multi-cultural potpourri where the Punjabi fraternity has always enjoyed a majority. The Punjabi presence in Hindi cinema, both in the reel and real life, has been spectacular.
The Kapoors are the leading Punjabi family of Bollywood. With Grecian features, impressive personality and a booming voice, Prithviraj Kapoor played roles of kings and emperors, the most outstanding being the role of Akbar beleaguered by his son's romantic transgressions in Mughal-e-Azam.
Raj Kapoor made the common man into an icon in his films like Awara, Shri 420, Jagte Raho. Shammi Kapoor was adored by women, envied by men and ridiculed by critics.
On the screen, his wife Geeta Bali connected astoundingly with the audience. Shashi Kapoor considers theatre superior to cinema. He was greatly influenced in his tastes by his wife Jennifer and stands apart from the extrovert Kapoors. Rishi Kapoor opted for violin and survived the reign of violence unleashed by Amitabh Bachchan. Randhir Kapoor's high expectations and low confidence proved his Waterloo. The Kapoor girls —Karishma and Kareena — possess the Kapoors' exuberance and energy.
Baldev Raj Chopra makes socially relevant films on diverse subjects like widow remarriage (Ek Hi Raasta), rehabilitation of prostitutes (Sadhana), communal harmony (Dharamputra), Muslim matrimonial law (Nikah), politics of rape (Insaaf Ka Tarajoo), adultery (Gumrah) and filial ingratitude (Baghbaan).
In his films, Yashraj Chopra never substitutes size and style with substance. His films, including his latest production Veer-Zaara, aim to improve the lot of society. He may shoot his films on glossy foreign locales, but his films exude Indian values and ethos.
Chetan Anand's Neecha Nagar (1946) won an international award. Dev Anand's rat-a-tat dialogue delivery, his hair style and romantic charm have held the audience in sway. Vijay Anand emerged as the writer-editor-director par excellence with Guide.
Two words, grandiloquence and Subhash Ghai, go together. His films, Karz, Karma, Saudagar, Khalnayak, Ram Lakhan, etc, mirror society. Gulzar has the courage of conviction to break away from the trodden path. In his films, such as Mere Apne, Koshish, Parichay, Maachis, Hu Tu Tu, etc, the complexities of life are never reduced to formulae. Shekhar Kapoor won worldwide acclaim with Bandit Queen and Elizabeth. Raj Khosla was aflame with ideas. He explored a range of styles—crime (CID, Kala Pani), musical (Ek Mussafir Ek Haseena), love triangle (Main Tulsi Terey Aangan Ki) and melodrama (Do Raaste and Do Badan).
With the passage of time, Dilip Kumar has come to be known as an institution in the field of acting or the textbook of acting. From romantic tragedies to fun-filled comedies to bone-crunching action films, the fluidity in his performance has stayed intact over the years.
Balraj Sahni won lasting fame as an optimistic peasant, Sambhu Mahato, in Do Bigha Zameen. His identification with the characters he played made his performances ring true in Kabuli Wala and Garam Hawa. Dharmendera as the ruffian Shaka in Phool Aur Pathar (1966) set the box office aflame with his raw physicality. Sunny and Bobby Deol have gone much ahead of other star sons. The granite-jawed, cleft-chinned, typically Punjabi hero Vinod Khanna made it big with Amar, Akbar, Anthony, Qurbani, etc.
A victim of the Partition, Sunil Dutt not only won his wife Nargis in Mother India, his performance as Birju made him a star. His experimental film Yadein (1964)) had only one actor. Rajinder Kumar enjoyed huge success and won the appellation of 'Jubilee Kumar'. Rajesh (Jatin) Khanna set the screen ablaze by crinkling his eyes and shaking his head. As a cheerful chatterbox living under the shadow of death in Anand, he proved that tragedy is not when the hero cries, tragedy is when the audiences cry. When Pran Sikand dilated his lynx-like eyes, he projected rancorous malevolence in films till Manoj Kumar made him Malang Chacha in Upkar. With his strong physique and an ice-in-the-vein demeanour, Amrish Puri reduced his opponents to bleating in films. An occasional positive role like in Virasat and Dilwale Dulhaniya Le Jayengey, etc, reaffirms Amrish Puri's range of acting. Prem Nath's performance as a callous philanderer in his brother-in-law Raj Kapoor's Barsaat made him a star but he made a career out of projecting vices. For all Madan Mohan's modernity, not once could you sense the dehati Punjabi at work in his compositions that were literally rooted in the Punjabi soil. The rhythm king O. P. Nayyar created songs that were intoxicating and transcended time. Jalandhar-born Khayyam was Punjab music personified. Sardar Malik (Anu Malik's father) created a sensation as the music director of Laila Majnu. Roshan made the name of Punjab and Punjabi fraternity roshan with Na to karvaan ki talash hai—a qawwali that is considered as the paragon effort in Hindi cinema.
Kundan Lal Saigal got the fawning adoration of the public for the sonorous sweep of his voice. Mohammed Rafi cast a spell with his vocal virtuosity singing bhajans, qawwalis, ghazals, geets, nazms or bhangra numbers. Zohrabai Ambalawali raised a musical storm with her crisp voice singing numbers like Akhiyan milake jiya bharmake chaley nahin jana in Rattan. Noorjehan spun eternal classics with her brass Punjabi voice singing Bulbulo mat ro yahan. Mahendra Kapoor's Sohni Mahiwal number Chaand chhupa aur tarey doobey raat ghazab ki aayi catapulted him to dizzy heights in the world of music. He has come to be identified with patriotic numbers such as Mere desh ki dharti sona ugley ugley heeray moti, Mera rang de basanti chola, etc. After Talat Mahmood, Jagjit Singh has revived ghazal-singing in Bollywood. Surender Kaur's Badnam na ho jaye mohabbat ka fasana and Ujda umedon ka chaman from Shaheed are a rage even now. Unforgettable is Khamosh zindagi ko ek afsana mil gaya, sung soulfully by Jagjit Kaur in Dil-e-Nadaan. Lo apna jahan duniya walo hum is duniya ko chhod chaley, sung by popular Punjab folk singer Asa Singh Mastana in film Dooj ka Chaand brings a lump to the throat.
Sahir Ludhianvi delineated the pain and agony of the Partition in one of his poems, saying Ay rehber-e-mulk-o-kaum batta/Yeh kis ka lahoo yeh kaun mara. He used his pen to highlight social causes. He lambasted society for exploitation of women saying Aurat ne janam diya mardon ko, mardon ney use bazar diya. Rajender Krishan Duggal became a household name with Suno suno aye duniya walo Bapu ki ye amar kahani. When Gulshan Kumar Mehta appeared before a producer, he remarked: What will this bawra write? Gulshan Bawra went on to write mind-boggling numbers like Yaari hai iman mera yaar meri zindagi and Chandi ki diwar na todi, pyar bhara dil tod diya. Prem Dhawan's poetry, whether it is Sub kuchh luta ke hosh mein aaye to kya kiya or Mera rang de basanti chola had a straight-from-the-heart quality, easily understood and yet so meaning.