ĎMy moods keep changingí
Three flops in a row, Ajay Devgan has still got his disarming smile. The critically acclaimed Bollywood hero, whose Apharan has been released recently, bares his heart to Vickey Lalwani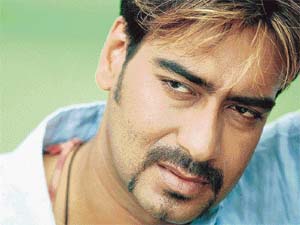 Ajay Devgan does not believe in awards
Apaharan is set against a Bihar backdrop. Have you adopted your normal look in the film?
No. I have changed my hairstyle, especially in the first half where I have oiled and back combed my hair.
Are you Prakash Jhaís favourite?
(Smiles) I am sure he wonít select me if he finds me not suitable to his requirement.
What is Apaharan all about?
It is the story of a complex relationship between a father (Mohan Agashe) and son (myself) set against the backdrop of a thriving kidnapping industry in the heartland of Bihar.
Things seem to have slipped a bit on your front, maybe since the days of Khakee. Was playing an out-n-out negative a wise decision?
I am an actor. That role excited me and I did it. I found the other characters in the film to be quite cliched.
A section of the people thought that Ajay shouldnít have played all black...
(Interrupts) I did get female fan mail condemning that portrayal. But my male fans loved the fact that I gave a tough time to the other heroes in the film.
Was Insaan a mistake?
Yeah.
How did the mistake happen?
Certain films are done due to relationships and midway you realise that they arenít working out. I think that I have answered your question.
Was Blackmail too a mistake?
No. Blackmail flopped for another reason. The film got delayed and by the time it released, times had changed. These things happen. I canít back out from my commitment where my producer is paying huge interest rates (pauses).
Should you have done a film like Zameer?
Zameer is not a bad film. It has been promoted badly.
Go on...
At this point of time, it has become very important that an actor chooses the right producer. He should be one who has the ability to hold the film and do aggressive publicity. The director and the script can be taken into consideration later.
Even Raincoat flopped?
Not exactly. I think the producer made money. Remember the fact that it was made in Rs 3 crore only.
You mean to say you reduced your market price for Raincoat?
Of course, I did. It is a myth that all established actors charge unreasonably high rates. If I am charged about a film, I may not charge a penny.
You have been an actor, director, producer and distributor. What do you enjoy the most?
My moods keep changing. Right now, I want to take a break from acting for two months (smiles). For your information, I am getting ready to produce a film.
Why donít you do stage shows? Is stage fright one reason?
Stage fright could be one reason. On second thoughts, I donít think I have stage fright. I can do a good play if I want. Itís just that stage shows and I donít go together. I hate dancing and jumping on stage for extra bucks. I did walk the ramp recently, but that was for a charity cause.
How about dancing in weddings?
(Interrupts) Even hundred years ago, there were a section of people who were meant to do that. The situation has not changed. A segment from actors fraternity believes that they are a part of that dancer troupe. So they do it. I donít think that way. So I donít dance in weddings.
You donít even attend award ceremonies. Why?
I donít believe in awards. So why should I drag my feet? Only a national award matters to me. ó TWF