The missing link
Beautifully shot, especially the African outdoor locales, Man to Man is set in Central Africa in the 1870s. It is about the hullabaloo the presence of two pygmies created in Scotland,
writes Ervell E. Menezes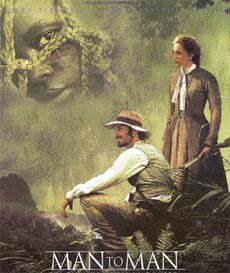 IF man's inhumanity to his fellow men is well known, so is his curiosity, especially in the late-19th century when the missing link theory was very much alive and kicking. Set in Central Africa in the 1870s, Regis Wargnier's Man to Man is about the hullabaloo the presence of two pygmies created in Scotland. It was the opening film at the 2005 Berlin Film Festival.
Joseph Fiennes plays Jamie Dodd, Scottish anthropologist, who went to Africa in quest of research on these African tribes and Kristen Scott Thomas, impresario, who has connections with the African king and plays a kind of middleman in getting these two pygmies, Toho and Nicola, to be shipped to the United Kingdom.
Taking off in the lush green wilds of Africa, the manner in which these pygmies are trapped like animals is inhuman. In fact many of the scientists then wanted to prove that they were the missing link. But Dodd was adamant that they were not and he goes on to give evidence of their intelligence.
Shades of The Elephant Man, a 1980s film in which John Hurt played the lead role. Man to Man dwells into the origins of these tribes. And though Dodd himself is quite na`EFve in his curiosity, he gradually undergoes a change of heart and mind. "Hello my little beauty, I'm going to call you America. I'm your Christopher Columbus," he says.
But the caged pygmy reacts violently. In fact it is hard to comprehend the impresario's role in the deal. She is willing to shoot Dodd in an attempt to free them yet she later collaborates with him.
Of course some of the incidents involving them are far from convincing. But Wargnier's attempts to humanise them come across loud and clear as does the primitive thinking of the Royal Scottish Academy of Science. May be Wargnier does try and add drama to the proceedings but that can be looked upon as poetic licence. But he does make Dodd a real character, shades of grey, as he goes about his task undaunted.
The film is beautifully shot, especially the African outdoor locales. So is the 19th century Scotland with its cobbled streets. Joesph Fiennes enters the psyche of the anthropologist and is ably supported by the talented Kristen Scott Thomas. Iain Glen and Hugh Bonnerville provide good cameos in this absorbing drama of the origins of men and the idiosyncrasies it exposes in one's fellow men.