ulta pulta
Art of forgery
Jaspal Bhatti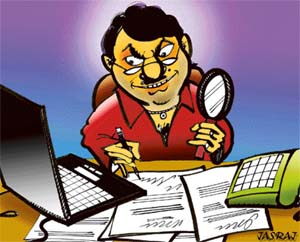 Mulayam Singh Yadav accused the Union Government of tapping Amar Singh's phone in Delhi. He gave the reference of two orders to the Joint Commissioner (Crime), Delhi. The Union Home Ministry denied passing such orders and said these were forged.
Every other day we find one politician or another denying that he had not written such a letter and the letter circulating by his name is a forged one. This means writing and circulating forged letters is important in politics.
Students should be taught to write fake letters in schools. For example, a teacher would ask her students "Write a forged letter in the name of the Principal to your father appreciating your performance in the class."
"Forgery is an ancient art but has developed vastly with modern gadgets like computers, printers, copiers and Internet etc. The art of forgery can be used to malign your opponent or defend yourself. If you want to criticise your high command, you need not issue a statement in your name. Forge a letter on the letterhead of a vice-president or general secretary. If you are caught in a controversy by issuing a letter of criticism by your name, you can always say, "Someone has forged my letter."
Some people are expert in the art of forging other's signatures. Once a cheat was caught as he forged someone's signature on a cheque. When he was produced in the court, the judge fined him Rs 20,000. He asked the judge, "Can I use the same cheque to pay the fine?"