M A I N N E W S
44 Indians killed in Haj stampede
Toll rises to 362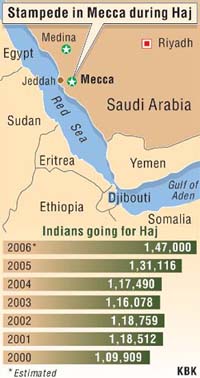 Dubai, January 13
At least 44 Indians were among 362 persons killed in yesterday's stampede at Mina during the stoning ritual at the Haj pilgrimage.
Reports quoting Saudi Interior Ministry said today that according to preliminary figures there were 44 Indians, 37 Pakistanis, 28 Saudis and people from 23 other countries among the dead.
Deputy Speaker of Rajya Sabha and leader of the Indian Goodwill Haj delegation K. Rahman Khan said so far 34 bodies of Indian pilgrims had been identified and the toll could go up.
"It is possible that many Indians may have died in the stampede. We are now sifting through the identity cards and other documents available with the bodies and so far 34 bodies of Indian pilgrims have been identified."
He said there were more bodies in the mortuary and the toll is likely to go up to 44 or more. — UNI
NEW DELHI: The Prime Minister, Mr Manmohan Singh, reviewed with the Minister of State for External Affairs, Mr E. Ahamed, the situation in Mecca.
Mr Manmohan Singh was briefed by Mr Ahamed about the latest situation and efforts being made by the government in the wake of the tragedy.
The Prime Minister is closely monitoring the situation, Mr Ahamed said.
The minister said the Prime Minister had instructed the Indian Consul General in Mecca to approach Saudi authorities for burial on Sunday of those dead.
If any of the relatives wanted to travel to Mecca for the last rites, the government will facilitate issuance of visas to them, Mr Ahamed said. — PTI