AUDIO SCAN
Some lively beats
Rafta Rafta: The Speed (Venus)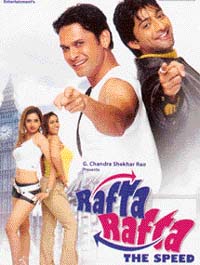 Sometimes small films manage to surprise one with the quality of their music. This is one such. Rafta Rafta, a film by Raj Sharma starring Sameer Dharmadhikari, Shakti Kapoor, Asha Sachdev, Monica Castelino and Javed Sheikh (Pakistan), has been garnished with lilting music by Sen brothers. Itís not as if they have come up with exceptional scores, but there is a freshness to their tunes which in itself is creditworthy, considering that many of the established composers too are scraping the bottom of the barrel these days. Not only that, they have also given a chance to several newcomers.
But as far as the most promising songs from the film are concerned, these come from established names. One is the title song by Udit Narayan and Shreya Ghoshal, which sets the tone in style. The only other duet, if one can call it that, Pyar mohabbat romance (Kunal Ganjawala and Madan), is not in the same league.
And among the solos, the honours go to Abhijeetís Mukhtsar si ek `85. It has fun and romance in right quantity.
Lagi lagan`85 by Keerti is a faux-Sufi number in two versions. Kirtiís voice does not have the full range that is required for such songs, but still it is enjoyable.
Main such much`85 is different from the run of the mill and showcases the voice of Sonu Kakkar adequately.
The lyrics are by Nawab Arzoo.
Hat Pichhe (T-Series)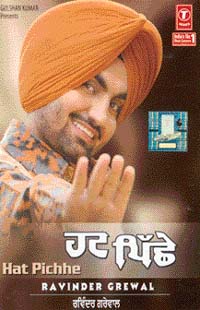 Punjabi cassettes hitting the market these days are almost entirely about dancing. That is a limitation and a qualification at the same time. Serious songs just do not sell. Odd reputed singers dabble in them. But for all those who have less than a dozen albums to their credit, the road to the bank goes through the heavy orchestra street.
Part of this fresh crop, Ravinder Grewal is striving to carve an identity for himself. In this album, he focuses mainly on the Punjabi anakh, shaan and style. In fact, the name of the cassette itself comes from the muchch da sawal.
Even when it comes to wooing the beloved, there is again the question of tohar, which only a Punjabi can fully understand. So, he beseeches the girl to say in front of his envious friends so that he looks like Sunny Deol.
The songs have been composed by Tejwant Kittu and written by eight different writers, Raju Daddahoor, Nikka Gurshan, Bedi Balkaran, Bechint Amlewala, Sodhi Chhokran, Jassi Phulanwal, Chand Sonspuri and Harnek Bhandal. Female vocals have been lent by Taranum Malik.
The barometer of the success of a cassette these days is its video on TV. On that count this one is doing reasonably well, under the direction of Rimpy Prince. ó ASC