Safety in construction sector is ignored
Jagvir Goyal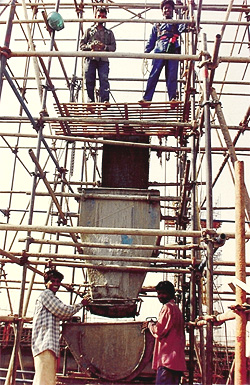 Workers often remove their helmets and hang them aside.
Construction works are dangerous by nature itself. Many risk factors are involved; many agencies are working together whose coordination is important to ensure safety during construction. The complexity of the work, mounting pressures to achieve the targets and most of the labour being illiterate and unaware of safety steps makes it impossible to eliminate accidents during construction. That's why, all around the world, more people die at construction works than in road accidents.
Yet it is quite possible to minimise the number of accidents during construction by taking some effective steps based on actual experience in construction sector.
In October, 2004, the biggest ever campaign was launched in Europe to make engineers, builders and workers aware of the importance of safety during construction. Electrocution, falling from heights and getting crushed under machinery were noted to be the three major causes of accidental deaths during construction.
In India, the scene is somewhat different. Indian construction industry is still highly labour intensive and use of machinery is considered by the builders as costlier than employing labour which is available at cheap rates due to unemployment and poverty. The reasons behind most of accidents during construction in India are therefore, failure of scaffolds, falling from heights and getting buried in excavated pits due to collapse of improperly cut earth walls.
In May last a seminar on safety in construction was organised in Chandigarh when many useful steps to enforce safety in construction and to eliminate fatal accidents were brought out by the engineers. Some of these are:
Ensure that all scaffolds are safe. Get them designed rather than leaving them to foreman's experience. Decide the spacing of verticals, horizontals and braces carefully. Prefer steel scaffolds to wooden scaffolds.
Make safe access arrangements. Wherever motor-run passenger cages are used to transfer people to the top of buildings, take special care of wire ropes and the hoists. Maintain them well and allow none to fail.
Wherever the height of building crosses 30 metres, provide temporary lightening protection arrangement. Also provide temporary aviation warning light arrangement to send a signal to the aircraft flying overhead. Allow these to remain in position till permanent arrangements are provided in the buildings.
Take adequate measures against fire. Keep gas cylinders upright. Train some workers in use of fire extinguishers and other equipment.
In multi-storey buildings, make the use of safety helmets and safety belts compulsory and allow no worker to enter the work area unless he wears these.
Provide warning signs around the construction area. Let these scream: Men working overhead! Danger, winch area ahead!! Blasting in progress!!! etc.
Always keep first aid box at site and keep it updated. Always keep a standby vehicle at site to rush an injured worker to hospital. Those few moments saved are always precious.
Always insulate all electric tools and train workers in using insulating gloves and tools.
Provide sufficient illumination of work area if work is in progress at night. Provide emergency lights to avoid panic and stampede during power failures in a building under construction.
Always stack the excavated earth away from the pit so that it doesn't make the sides collapse and bury the workers inside. Keep the excavated sides as sloping not vertical.
Create safety cells at sites whose exclusive job should be to ensure implementation of safety steps and to keep making site staff aware of the importance of safety. This cell should observe safety weeks and institute safety awards to encourage the workers.
Evolve a construction safety manual which should come handy at construction sites. It will save the trouble of referring to so many codes and guidelines lying scattered in different volumes but never available in time.
Organisations should enforce yearly safety audit of their sites by internal as well as external agencies.
It is quite possible to minimise the number of accidents during construction by taking some effective steps based on actual experience in construction sector.