Punjabi antenna
Tabla treat from across the border
Randeep Wadehra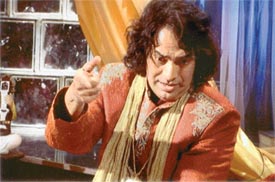 Ustad Abdul Tari on the sets of Kujh Pal Tere Naam

We are proud of our tabla maestro Zakir Hussain and go gaga over his flamboyant mannerisms. Little do we realise that he has competition right in the neighbourhood. On the sets of Kujh Pal Tere Naam (Zee Punjabi), Ustad Abdul Sattar Khan Tari of Pakistan impressed as much with his erudition as with his tabla-playing skills; his fingers make the instrument resonate, creating a sublime ambience. As for flamboyance, he rivals the best of our showbiz stars. The imaginatively created setís backdrop only heightened the ethereal effect of Tari Khanís renderings.
Ridka on Road (ETC Punjabi) featured Nachattar Gill this time. The tour through Punjabi countryside and the talk on the direction that the music is taking was interesting. But, it was the city-born anchorís gaffe that was rather amusing when he mistook chari (a fodder crop) for sugarcane crop.
There is this supposedly funny Janata Di Zalaalat on MH1 Ė a take-off on the once-popular Hindi television show Janata Ki Adalat. The JDZ is marred with amateurish acting and predictable gags. One hopes that things will improve with the passage of time.
The recipes on Tandoor (ETC Punjabi) are mouthwatering indeed. Viewers are introduced to cuisines from Punjab and different parts of the country. So far so good. But why in the name of all thatís tasty do they have to bring in Punjabi pop numbers even in this programme?
The Phulkari girl, Dimple Mehta aka Jaspreet, has been anchoring some very interesting shows for ETC Punjabi, viz., Caught On Camera and Dil Diyan Gallan. She has interviewed famous Punjabis from Bollywood, highlighting their personal and professional distinctiveness. But, sometimes she does reveal a bit of herself too, albeit unwittingly. For example, recently, one saw her interviewing an artiste on a horseback. Well, well, well equestrian Ďsubstanceí does lend aura to the Delhi lassís style. But she spoilt it all by confessing that she didnít really know how to ride a horse. One thought rein-pulling would come easily to an anchor.