True patriot
Jaswant Singh
Subhas Chandra Bose: the Man and his Times
by Lt-Gen Eric Vas (retd).
Lancer Publishers and Distributors, New Delhi.
Pages 269. Rs 695.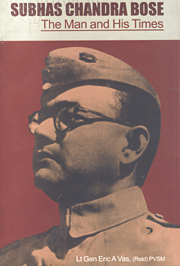 If there was one man in India's freedom struggle who fascinated milliona irrespective of their religion, caste or language, it was Subhas Chandra Bose who received unabashed hero-worship from his followers. If Mahatma Gandhi represented the noble spirit of the country, Subhas was the living symbol of national unity and the aspirations of the nation.
Netaji, as he was known in his Indian National Army, had the unique charisma that moved countrymen for his integrity and commitment to the cause of independence. His adventuristic pursuit of the struggle for freedom made his name a household word all over India. A whole generation of Indians refused to believe that he was no more among them and pined for his reappearance. Not only the countrymen, even Lord Wavell who was then the Viceroy of India, was sceptical when he heard the news of Subhas Bose's death and felt that the report of the plane crash was a cover-up and that Subhas was in hiding. Gradually, the country accepted that Netaji was no more. The Indians knew that if he were alive, he would have come out to fight the British as well as the secessionists to prevent a partition of India.
Still, for decades after his disappearance from the world scene, there was no dearth of people in India who believed that some day he would come out. Rumours of his being alive kept floating. Each rumour was followed up, investigated and found incorrect.
In a period of disillusionment, he has been a leader of hope to his people. A like of him has not been seen in India's long struggle for freedom. All manner of legends and myths have grown around his name.
A book on a leader of this stature is expected to bring Netaji and his mission back to life. The reader would look upon the author to tell the story of one of India's great revolutionaries since 1857, in all its dimensions. The reader would look forward to an opportunity to view all stages of the life of a man who stands out distinctively in modern India's history, for his matchless personal charm, courage, heroism and sacrificial patriotism. The reader would hope to have and understanding of Netaji's total personality, his political philosophy, his world-view and the image of India that he set out to build. A book on the life and times of Subhas Chandra Bose is expected to shed light on this aspect of the Indian liberation movement, which has unfortunately been largely overlooked.
What does not find adequate mention is his childhood when as a schoolboy in a missionary school he found the milieu foreign to his nature. When he graduated and left for England to qualify for the Indian Civil Service (ICS), his sense of mission—Indiasalvation from political, economic, social and spiritual slavery—was not in doubt. It surprised no one when he decided to quit the ICS and jump into the freedom struggle.
His exile in Burma from 1924 to 1927, and then enforced exile in Europe from 1933 to 1936 transformed him into a statesman who parleyed with world leaders on equal terms and who had a vision of his country's interests in the interplay of world forces in peace and war.
On his return to public life after a stay in Europe and a spell in prison, Subhas marched ahead of the national leadership with his call for national planning and socialist reconstruction of India (at Haripura in 1938), an ultimatum to the British to quit India (at Tripuri in 1939) and for the Left consolidation (at Ramgarh in 1940). Thus, he represented an alternative current in India's national politics, competing with the major current led by Mahatma Gandhi.
His Great Escape from India, his under-sea journey from Europe to the Far East and the formation of the India National Army, all find mention in the narrative by the soldier-author, but mostly as part of a review of the war as it progressed in different theatres. Reading the book, one feels at times that one is reading a brief history of the war in which names such as Rash Behari Bose, Subhas Chandra Bose, Mohan Singh and some others find mention at appropriate places. It does not read like the life story of one of the most prominent personalities involved in India's freedom struggle.
A remarkable section of the book is of course the one that describes the last days of Netaji. The air crash in Formosa, the treatment given to him, his last words, the cremation on instructions from Tokyo, are all described in considerable detail. So are the various rumours about his being seen at different places, the investigation of the rumours and the inevitable conclusion.
The book concludes with post-war developments such as the INA trial at the Red Fort, and other political events of post-war India. The soldier-author is at his best while describing the war, and very often the personality of Subhas Chandra Bose takes the back seat.