Battle against fate
Kavita Soni-Sharma
I Promise to be a Good Girl, God
by Kamini Banga. Penguin.
Pages 97. Rs 150.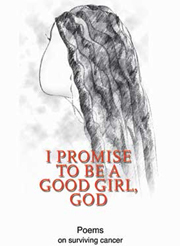 For a first attempt at a book of poetry, Kamini Banga's work reads well. It takes one on a "roller coaster" ride of hype, fear, anxiety, despair, and then appropriate hope for those afflicted with cancer.
The book dispelled my otherwise firm belief that one should not dwell upon those things, which perpetuate a negative line of thought. Banga who has been successfully battling with breast cancer for the last 10 years states that grieving is a big healer, as it helped her realise what must stay and what she could leave behind.
She shares the emotional experience of her illness with the reader starting from The Beginning, a section of profound poems that discloses how inherited genes predisposed her to the disorder which had afflicted her mother and caused a drastic change in her own form. Consequently, the points of pleasure in Banga's life came to be darkly coloured by the spectre of death.
In a moving poem, The Mirror Cracked, Banga describes how her perfect world fell apart and how her family tried to help her cope with cancer. On her own part, she barricaded herself with various saviours and messiahs right from the Buddha to the Christ, with a string of Hindu gods thrown in for good measure. She was so overwrought with despair and anxiety that she ensured safety in numbers.
Her illness appears to have cast a shroud over her and she felt compelled to view all of life through it. She maintains that she felt betrayed and helpless, lost in the dark terrain of her disease.
Banga's collection of poems is not an outpour of only personal pain, though anguish is palpable in her every word. It transcends all boundaries and becomes a universal human emotion that the reader can empathise with. She takes full responsibility of her feelings and uses her pain creatively in her mind-body interaction during her illness, which takes concrete shape in this book.
Each poem talks of her fight against cancer and some of them voice her resentment and anger more than the others. She admits that there are a number of visible manifestations of this battle in the form of scars on her body but she is also quick to point that "the mark is at its angriest where none can see it—inside my head".
There is a section of five poems under Karma and Genes. The most poignant of these is The Karma Chain wherein she wonders aloud as to whose karma caused her this suffering—her own, her mothers, her husbands, her sisters, her brothers or her children's?
Even though I feel it is medically inaccurate and psychologically cruel to tell someone that she is afflicted with illness as a punishment for behaviour not organically related to the illness and that failure to heal is to be blamed on bad karma, it is better to accept the suffering as God's will. Banga's meditations on the issues of the soul and the spirit would have added on to her spiritual strength.
Finally, the love and support of her family and friends helped her to come to terms with the inescapable reality of death. Though the cloud of cancer still hangs over Kamini Banga, she must believe that even when there is no longer hope for the body, there is always hope for the soul. An anthology recommended for reading.