Elephantine problem
Elephants in Africa have grown from 6,000 a century ago to 600,000 now. The South African government's plan to carry out a massive cull has triggered an international row,
write Geoffrey Lean and Mike Cadman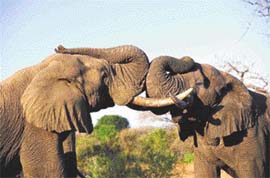 Southern Africa now has too many elephants
A century ago Africa had just 6,000 elephants left. Now there are 600,000, and some say they are a pest—which is why the guns are out in the whole of Africa south of the Zambezi.
This astonishing growth in numbers has led the elephant into a new danger, however: the South African Government is now planning to carry out an unprecedented massive cull, amid claims that the world's largest land animal has become its biggest pest.
The South African plan is igniting an international row that has split environmental, scientific and political opinion, and could damage the country's image as it prepares to host the 2010 football World Cup.
Neighbouring nations such as Botswana, with 120,000 elephants, and Zimbabwe, which want to start culls of their own, are anxiously awaiting the outcome.
All sides agree that southern Africa now has too many elephants. The giant animals smash their way through the landscape, eating—or flattening— much of what is in their way. An adult eats at least 330lb of vegetation a day.
As their numbers have grown, they have increasingly wandered on to farmland, devastating crops, destroying the livelihoods of poor farmers and occasionally killing people. And even when they stay in the wild, South African National Park officials say, they threaten the survival of more endangered species such as the black rhino and rare antelope by devastating their habitats.
From an elephant's point of view, however, it looks different—especially on a continent-wide basis. Originally, it is thought, there were some 10 million of them spread across Africa. Now, at most, about 600,000 are left.
While their numbers in southern Africa were increasing, because mass slaughter of elephants stopped about a century ago, they were being devastated by poaching across much of the rest of the continent until the world agreed to ban the ivory trade in 1989. Now there is a relatively stable population of about 150,000 in east Africa. West Africa has very few, about 13,000 at most, and central Africa has anything between 15,000 and 160,000.
The issue has come to a head in perhaps the most successful area of all— South Africa's Kruger National Park, an area about the size of Wales. Its elephant population has soared from 65 in 1918 to about 12,500 today. The National Park Service says this is twice as many as the park can stand. The numbers are growing by 7 per cent a year, bringing the expected total to about 20,000 by 2012.
Until 11 years ago, the park service culled the elephants to keep their numbers around the 7,000 mark. But then television footage of the killings created an international outcry and it was stopped under pressure from organisations such as the International Fund for Animal Welfare (IFAW).
In September the South African Environment Minister, Martinus van Schalkwyk, recommended a new cull of some 5,000 elephants, the biggest ever carried out anywhere in the world. The government is expected to finalise its plans by the beginning of next year, though it will be 2010 before the killings begin.
Mr van Schalkwyk, acknowledging, "that there are a lot of emotions around this issue", said: "We hope we would be able to convince people that this is not hunting an elephant; this is culling as a management option." But already feelings are running high, with some opponents of the cull calling it "genocide", while some of its supporters say there will be a "holocaust" of other species unless it takes place.
The IFAW continues to insist the culling is "cruel, unethical, and scientifically unsound", but the WWF (formerly the World Wildlife Fund) says it is "the most viable immediate population-reduction tool".
The Humane Society of the United States has warned that, if the cull takes place, it will advise its 8.5 million members to boycott South Africa as a tourist destination, and opponents say that it will tarnish the World Cup. — By arrangement with The Independent