Banaras to Bloomingdales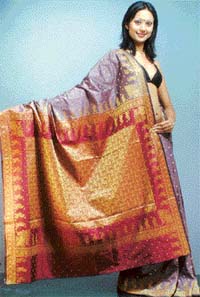 For the West, India is the land of glorious flamboyance
In the West, people are tired of plain pastels and soft sombre shades. They want something to liven up things a little and ethnic fashion is quite a revolution
Old Banarasi and other Indian sarees, reincarnated as curtains, bedspreads, quilts and what not, are adding a dash of colour to homes in the West in contrast to the traditionally minimalist décor there.
At Bloomingdales, the Christmas sale comprised sarees made into spectacular pairs of organza tissue and silk curtains/drapes in shimmering shades of maroon, ruby reds, sage greens, purple and lavender with exquisite swirling hand-embroidered motifs in silver and soft gold and elephant motifs hand woven on the border.
It said Made in India, and for size 90L" X 41W", was priced at $182 from its original price of $354. "We have a lot of queries about these, and the old sarees in their new incarnations are a rage here," says interior designer Rachel Adams, who sources a whole host of them for what she calls the "vintage collection."
"Lots of stores in the West are stocking these ethnic creations made from old sarees because they add a hint of exotica with our pale colours and minimalist furniture," Rachel said. "In the West people are tired of plain pastels and soft sombre shadings. They want something to liven up things a little and ethnic fashion is quite a revolution. That is why furnishings get an extra edge of winsome vintage when the old Banarasi sari gets reincarnated." For the West, India is the land of glorious flamboyance. It integrates influences from various cultures into eclectic decorative styles. The awesome breadth of designs, colours and textures provide a seductive visual treat.
Saree borders are also finding buyers because they are used on belts, jackets and other apparel and can make decorative embellishments on apparel. "They add an extra panache and just change the whole theme. They are very popular at Washington DC as well as at Los Angeles and New York upmarket stores." A quick look at stores suggests that sarees have been reincarnated into furnishings, like bedspreads, handmade quilts, duvets, silk beddings and table linen, too, with intricate pearl work, bead work, brocade or zari work and sequin work. For the moment, the look that interior designers are favouring is vintage antiquity with old sarees coming into vision in hues of deep violet, crimson red, burgundy, deep magenta, russet and varying degrees of gold. In its new avatar the sari is enjoying its lengthened lifespan.
The home of Washington-based designer Keya Bala boasts of ethnic Indianness. Celebrating vintage antiquity, the cushions curtains, bedcovers and table runners are all recycled pieces of old Banarasi saris. "I picked these up in Singapore because here in America they are expensive," says Keya Bala." — IANS