Goal mine
Loaded with money, fame, and action, soccer, the world's most popular sport, is ideal fodder for movies. No wonder even Hollywood hasn't been able to remain indifferent to its global appeal, writes Vikramdeep Johal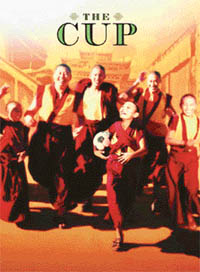 A still from the Bhutanese movie The Cup
It is easily the world's most popular sport. From Manchester to Marrakesh, from Seoul to Santiago, soccer has the power to drive people wild. Loaded with money, fame, action, and drama, it is ideal fodder for movies — or is it? Well, Hollywood's all-time favourites have been the three Bs — boxing, baseball, and basketball — along with American football.
Soccer has always lagged behind them in popularity among the Americans. It has gained some prominence in the past decade or so with the hosting of the 1994 World Cup by the USA and the occasionally good performances of the national team. No wonder even Hollywood hasn't been able to remain indifferent to soccer's global appeal. Soccer Dog (1998) and Soccer Dog: European Cup (2004) were two inane feel-good films about the antics of a canine that plays the game better than the Homo sapiens around him. In the 2004 film, the dog transforms underdogs into champions with his Ronaldinho-like skills. It was juvenile stuff — hard to enjoy, easy to forget.
Back in 1981, Oscar-winning director John Huston made Escape to Victory (aka Victory), in which a Nazi officer makes allied prisoners play a soccer match against the Germans to "prove" Aryan superiority. The film boasted of Sylvester Stallone and Michael Caine, besides football legends Pele and Bobby Moore, but it still failed to score.
Last year, Hollywood made another high-profile landing on the soccer field with Danny Cannon's Goal! , the story of a boy living in the Barrios section of Los Angeles who dreams of becoming a professional footballer. In an unbelievable turn of events, a former scout for Newcastle United who gets him a trial for the topside spots him. The soccer stars who appeared in the movie included David Beckham, Zinedine Zidane, Raul and Alan Shearer.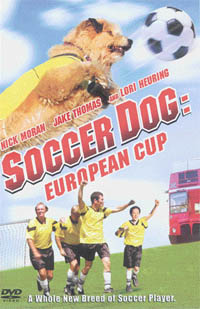 A feel-good film about the antics of a canine
The well-received Goal! was the first film of a trilogy whose second movie, Goal! The Dream Begins is scheduled to be released in March this year. The third one's premiere will be timed to coincide with the World Cup beginning in Germany in late June.
Football films of substance have usually come from a region that is simply mad about the sport — Britain. "Who wants to cook aloo-gobi when you can bend a ball like Beckham," asks Jess Bhamra (Parminder Nagra) in Gurinder Chadha's super hit entertainer Bend it Like Beckham (2002). Defying her conservative parents, who are hell bent on getting her married, Jess idolises you-know-whom and pursues passionately her pet sport. The film was a success in the USA as well as in India, where it was released in a dubbed version titled Football Shootball Hai Rabba. Alexander Walker, writing for London Evening Standard, called it a " feel-good comedy that promotes, with total political correctness, the cultural equivalence between two tribal religions — English football and Indian weddings."
Colin Firth (of Bridget Jones' Diary fame) charmingly played a die-hard Arsenal fan whose obsession irritates and perplexes his girlfriend in Fever Pitch (1996). For her, it's just a game; for him it's a way of life. Eventually, she shares his ecstasy when Arsenal win the league championship against heavy odds.
When Saturday Comes (1996) was a dream-come-true tale of a Sheffield brewery worker who becomes a professional player and scores on his debut. In the Scottish comedy Gregory's Girl (1980), a gawky adolescent who has become a liability for the school's winless soccer team falls in love with his fair-sex replacement. The game's ultimate tragic story was told in Best (2000), a biography of George Best, the brilliant Manchester United player who drank himself to death last year.
Soccer's brave new continent, Asia, has also produced a few memorable films about the sport. In the Bhutanese movie The Cup (1999), two Tibetan trainee monks are more interested in football than spirituality. They persuade their abbot to allow them to raise money to buy a satellite dish so that they can watch the 1998 World Cup final between Brazil and France. The humorous film used a cast of real Buddhist monks and was directed by Khyentse Norbu, himself a Bhutanese high lama.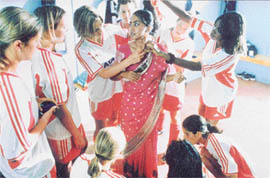 Bend it Like Beckham: A super-hit entertainer
From Hong Kong came Stephen Chow's Shaolin Soccer (2001), the zany story of a hapless ex-footballer who meets a shaolin kung fu practitioner. The former teaches soccer peppered with shaolin kung fu to the latter and his brothers. They form a team, and take part in a tournament with a $ 1 million prize.
Love for the sport builds a bond between an Israeli prisoner and his Palestinian captors in Israeli filmmaker Eran Riklis' Cup Final (1992), which caused a stir in that country due to its non-partisan viewpoint.
What about Hindi films? With cricket being India's beloved game, poor soccer has rarely got a look-in on the big screen. Prakash Jha's first film Hip Hip Hurray (1984) was about a sports teacher (Raj Kiran) who tries to mould a group of undisciplined and aimless schoolboys into a formidable football team.
Anil Kapoor played a promising goalkeeper in Saheb (1985), who is selected in the university team. However, the financial crisis at home and his own failure to get a job don't let him concentrate on the game. As the situation worsens, he decides to sacrifice his sporting career for the sake of his family.
In Golmaal (1980), Amol Palekar is shown as a big fan of Pele. During a job interview, Utpal Dutt asks him whether he knows anything about the "Black Pearl" (Pele's sobriquet). Eager to give the impression of being a serious worker, Amol feigns total ignorance of the subject and replies in chaste Hindi that he is aware only of the "shwet moti" (white pearl), not the black one. The ploy works — he gets the job.
As the World Cup draws near, soccer movies would be much in demand (and supply) in the coming months. The ball was set rolling in India with a football film festival held recently in Malappuram, Kerala, where both feature films and documentaries were screened. So sit back and enjoy the reel action before the real one begins.