Diva of offbeat movies
According to writer-director Aparna Sen, "15 Park Avenue is an address. This is an address that this young woman Mitali (played by Konkona Sen) is looking for and this search for 15 Park Avenue becomes a metaphor for all of us."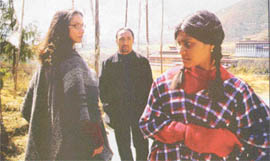 Konkona Sen plays the younger sister of Shabana Azmi in 15 Park Avenue
After the success of Mr and Mrs Iyer, the trio— Aparna Sen, Konkona Sen and Rahul Bose—have teamed up once again in their new film 15 Park Avenue.
The film revolves around a woman Mitali or Meethi, played by Konkona, who is searching the place where her family lives, that is, 15 Park Avenue.
Writer-director Aparna Sen said, "15 Park Avenue is an address. This is an address that this young woman Mitali is looking for and this search for 15 Park Avenue becomes a metaphor for all of us." Meethi plays the younger sister of Anjali (Shabana Azmi) and daughter of Rewa (Waheeda Rehman). Due to Rewa's late pregnancy or as a result of some genetic quirk, Meethi turned out to be mentally and physically challenged. She was schizophrenic as well as epileptic, and was dependent on others for support all her life.
Anjali was highly educated and worked as a physics professor in a university, while Meethi managed to be a journalist with a publishing house. Meethi also got engaged to a man called Joydeep (Rahul Bose), inspite of Anjali's reservations about this relationship due to her physical/mental condition.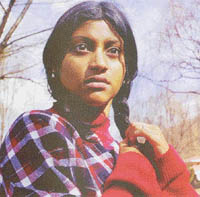 Meethi is mentally and physically challenged
In one of her assignments, Meethi became a victim of repeated rape which aggravated her schizophrenic state. Her mental state became very unstable and she was admitted to an asylum. She came back home, too, but things didn't show any signs of improvement. In fact, now she stayed in her own world and started believing that she was indeed married to Jojo and had five children from him. She believed that they were all staying at 15 Park Avenue.
Looking at her condition, the doctor suggested that the entire family take a vacation to a faraway resort. They go to Bhutan where they happen to meet the epicentre of Meethi's existence—Jojo.
However, things had now changed in Jojo's life too. He was now happily married and a father of two kids. On meeting Jojo, Anjali was worried about Meethi's reaction but surprisingly, she didn't recognise him at all.
Sharing her experiences about the film, Konkona said, "I am happy to be a part of the film, because it is based on a very good subject. We shot in beautiful locations of Buhtan and Kolkata.
The unit was also like a family, and everyone knew everyone very well. I have known Rahul before. Shabana and I have worked before and we were very close, of course—'Maa' and I. So, it was a very nice atmosphere to work in." The movie also stars Dhritiman Chatterjee, Kanwaljeet Singh and Soumitra Chatterjee in pivotal roles. — ANI