televisioN
Sky no limit for these stars
Television is going places and so it seems are its many stars, producers and directors who look forward to the year full of more challenges. Some popular TV personalities talk about their goals.

Ekta Kapoor (Creative Director of Balaji Telefilms): There is continuing fragmentation of viewership. It seems STAR Plus will continue to be on top in 2006. But Zee and STAR One will inch forward. For me, innovation is the keyword. As far as soaps go, my biggest challenge this year is Kya Hoga Nimmo Ka on STAR One with which I will enter a new territory. With my other new soap Kasam Se, a sweet story, I hope to lure urban audiences into watching Zee. Kandy Floss on Sony will be my first non-fictional show. Iíll also launch one of my biggest soaps ever towards the yearend. As far as television is concerned, the sky is no longer the limit.
Kavita Barjatya (Producer, Woh Rehne Wali Mehlon Ki): "TV is getting really big. Besides the normal dailies, different kinds of shows are coming up this year. Reality TV is here to stay. A survey has found that television contributes 55 per cent to Indiaís entertainment industry while films contribute just 26 per cent.
Manish Goswami (Producer, Sarrkkar): The year looks very encouraging. Apart from two shows on air Sarrkkar and Kittu Sab Janti Hai, which are doing very well, I will have a few more shows on air by February-March. My first feature film will take off by July 2006. I see a lot of reality TV and progressive serials on primetime. I also see a lot of shows targeted at children. Comedy shows will also rule the roost this year.
Iqbal Khan (Kaisa Yeh Pyaar Hai):Things have been going splendidly for me. I will continue to work hard and do my bit on television. Everyone can see the popularity of the medium.

Smriti Irani (Kyunki Saas Bhi Kabhi Bahu Thi): This is a year filled with great possibilities for me. Itís the year of my debut in Gujarati theatre and the beginning of my association with cinema. I hope it works. As for television, content will continue to rule whether itís a soap or reality TV.
Ravi Rai (Producer, director of Sailaab, Thoda Hai Thode Ki Zaroorat Hai and Kashish): This year television will certainly scale new heights. A TV director has to stand up and deliver. Fiction TV is a segment of deep concern. With news, sports and reality-based shows coming up, one needs to look at this genre and revive it. As for me, I need one good show on television for my company to keep going.
Deepak Segal (Executive vice-president, content, STAR): I foresee further fragmentation in the TV industry with new channels and technology like DTH and mobile coming up. For STAR, we hope to put some shows that get into the marathon and others that can lead the race and sustain.
Rohit Roy (Sarrkkar): The year 2005 was great and 2006 looks even better. Sarrkkar is giving me a creative high. Viraasat promises to be the mother of all soaps. My appearance in Ek Khiladi Ek Hasina got me a great response. Now a couple of really good films are happening. So, this year will rock for me. TV will continue to be the most powerful medium, and itís growing.

Rajiv Khandelwal (Kahin To Hoga): The year looks very exciting. Iím clueless about what awaits me which makes my struggle unpredictable and exciting.

Rajeshwari Sachdev Badola (Rihaee): I hope my tradition of interesting and challenging work continues. May dance and music be the elixir of my life. ó IANS
Idol worship
Twelve finalists are crooning their hearts out to win the title of Indian Idol. The jury is out on the contest that last year gave Sony a mind-blowing headstart and made a celebrity out of Abhijit Sawant.

The show has again received stupendous response from viewers with an overwhelming number of votes that has culminated with the selection of a dozen finalists. The galas presented on elaborate sets showcase each contestant in his or her best-ever performance.
After three months of search from 30,000 contestants by Farah Khan, Sonu Nigam and Anu Malik, it is time to select the best singer. So tune in every Monday and Tuesday at 8.30 p.m. on Sony and see who the lucky winner is from the 12 finalists.
Return of Monk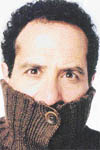 The worldís most quirky, yet most brilliant detective is back! Heís phobic, heís obsessive, compulsive, but heís probably the smartest crime-solver since Sherlock Holmes.
Monk has returned on Star World in its fourth season airing Fridays at 9 p.m. in which Emmy and Golden Globe Award winner Tony Shalhoub plays San Francisco police consultant Adrian Monk.
The new season also features Jason "Seinfeld" Alexander who plays Marty Eels, a rumpled detective whose uncanny instincts and insights throw Monk off the track. See how the sloppy sleuth keeps ruffling Monk the
wrong way.
Matter of faith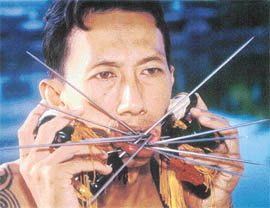 Sacred Pain: Taboo for some, religion for others
How far would you go to please God? While every religion is based upon faith, some followers take their devotion to the extreme.
The National Geographic Channel airs Sacred Pain on Tuesday, 9 p.m. that showcases communities where inflicting ghastly wounds upon oneself is considered an act of devotion to God.
In Nepal, for instance, the community of Bode ushers in the New Year by selecting one man to stand before the Gods and drive a spike through his tongue.
In Bali, Indonesia, believers cut themselves with fierce knives. In Thailand, some devotees cut open their flesh, jam heavy metal rods, which are up to two inches in diameter and four feet in length, through their cheeks, and then climb ladders with razor-sharp blades for steps. ó NF