interview
'I don't think Netaji survived the crash'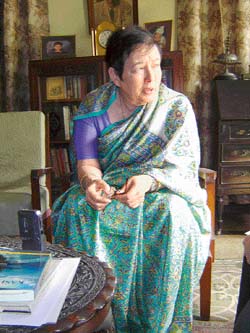 Anita Pfaff, daughter of Subhas Chandra Bose
Anita Pfaff, daughter of Subhas Chandra Bose, came to India after a gap of four years to take part in the 95th birth anniversary of her Austrian-born mother Emilie Schenkl at Netaji Bhavan in Kolkata on December 26 and the 109th birth anniversary of the great freedom fighter himself on January 23.
Sujoy Dhar catches up with the dignified professor of economics to discuss the issues concerning Netaji on every Indian mind.
Ensconced in the south Kolkata living room of former Trinamool Congress MP Krishna Bose (she is the wife of late Sisir Bose, Netaji's nephew and Anita's cousin), Anita (63) speaks softly about her father's disappearance mystery, his marriage and what role could he have played post-Independence. Anita, a professor of economics in Germany's Augsburg University, is a mother of two sons and one daughter. She is married to a German, Martin Pfaff, who is also an academic. Anita's visit comes soon after the submission of the report of the Justice M K Mukherjee Commission of Inquiry which was probing for nearly six years the mysterious disappearance of Netaji since an air crash at Taihoku (now Taipei) on August 17, 1945, in which he had allegedly died.
Excerpts from the interview:
When did you last come to India?
My last visit was four year ago but that time I didn't come to Kolkata. I came to Kolkata this time to attend the birthday functions of my parents and to meet my relatives. I notice certain improvements in the city.
You have come at a time when the report of the Justice M K Mukherjee Commission of Inquiry has been submitted. Do you expect anything major to come out of it?
I doubt very much whether it would lead to any stunning new information. I don't really expect anything terribly new to come out of it. In terms of new evidence on Netaji analysed by the Mukherjee Commission I think it is mainly documentary evidence which is of importance because some of it might have come to light after the Khosla Commission (1972), also probing Netaji's death, concluded its probe. So, combining the new and old documentation may bring out new insight. Some of it may be of high interest to historians and give a more complex canvas, but the general public probably is not going to glean much from these things. Given the fact that it took so long, I got to be rather doubtful of the usefulness (of the report) but Thank God we have a report now.
You are sort of convinced that Netaji died in the Taihoku aircrash.
I don't think Netaji survived the air crash. If I look at the evidence available to me, he did not survive. I have been present at the interview of some of the survivors of the plane crash, including some Japanese officers, more than 20 years ago, and their story sounded quite consistent, credible and reasonable. If you look at the whole lot of evidence, this is the most consistent. Some speculation also occurred in the reports that the doctor who treated Netaji after the crash when interviewed this time was confused about what he had said earlier. He is 90 years old now! Ultimately what he said many years ago made a lot more sense. At 90, you certainly have memory lapses. Even if his new interview has led to fresh controversy I would not place too much emphasis on it.
But what about those who believe that Netaji survived the crash?
After Independence, there was suspicion on the part of many about the air crash. Netaji's associate Col Habibur Rahman claimed that he was on the plane and he got burnt and died as a consequence of that. Now if you look at it from another point of view, he may have said what he was told to say by Netaji. He (Netaji) might have said that to avoid arrest by the British or to continue to work for India's independence. Bose may have hidden for a while but there was no reason why after Independence he would not have come out of hiding. If it is assumed that he was kept imprisoned somewhere then Colonel Rahman would have definitely come forth and said that there was something very seriously wrong and that Netaji had not died. He (Rahman) even told his wife and his children that Netaji had died.
There are many who still do not believe that Netaji got married to your mother Emilie.
It is nonsensical. I am not going to go out of my way to argue over it. It was a secret marriage because of both Bose's position and my mother's position at that critical juncture. My mother would have lost her (German) citizenship had she married a foreigner as per the rules that time, while he (Netaji) too was not in a position to take care of a wife and family at that time. Making the marriage public was not a practical thing to do.
How did your mother remember your father?
My mother had a very strong emotional involvement with my father even when he was not around. She was a very private person and there are many things she never talked about. She talked more about their work together. But she never talked much about their political side. When my cousin Dr Sisir Bose and his family visited us, I was surprised when she produced the letters written to her by Netaji. She had earlier said they were personal letters and that she would destroy them before her death. It was all very surprising when she also agreed to have them published.
What difference do you think Netaji would have made had he been present in the post-1945 political scene?
There is no point in believing that he could have worked miracles and everything would have been better. Many problems in India would have remained whether or not he was there. I guess he could have taken a strong stance against corruption. But one thing I certainly believe is that if Netaji were present in the post-Independence scene, the Pakistan problem might have been avoided. He probably would have worked very strongly to prevent the partition of India in the first place and may be an alliance of Gandhi and Bose could have made a difference.
Do you think the successive governments in New Delhi have been fair to Netaji in giving him due recognition?
I don't think so. The acid test was the way INA (Indian National Army led by Netaji) was treated. I think INA was treated in a rather poor and dishonourable way in the beginning. Many of the INA members died of hunger. It took till the 1970s to even recognise the INA people as freedom fighters. Some lip service was given to Netaji as a person but you may argue that that too could have been better. We now have documents available that very clearly show that the INA was successful in dislodging the hold of Britain on the British Indian Army. — TWF