'art and soul
Paintings by numbers
Are the differences in opinion on John William Waterhouse enough to explain the dramatic fluctuations in the prices of his work or is there something else that is going on? One continues to wonder, writes B. N. Goswamy
IN the context of the word coming in, every second day, of the unthinkably high prices being fetched by works of some contemporary Indian artists – unthinkable as compared to what they were a few years ago – two items of news/reportage caught my attention recently.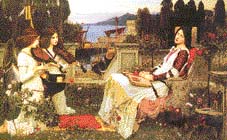 St Cecilia (listening to music). By John William Waterhouse, 1895
One was a report on the ArtBasel/Miami Beach art fair that concluded in December last year. The sales figures, the report said, were "dizzying." Not all the artists whose works were being sold were celebrities, and yet, a gallery owner said gleefully: "Within the first hour, all our most expensive things were sold `85 The buying started as soon as the fair opened its doors to VIP visitors. Visitors were observed running through the aisles: it was total chaos, like a rugby match, a frenzy." Another gallery owner said that within three hours of the opening, they had sold all the 10 works they had brought to the fair.
The second was a mention in an article that was in the nature of a review of Peter Trippi's recent monograph on the Victorian painter, John William Waterhouse (1849-1917), written in the wake of a remarkable revival of interest in that artist's work. The interest, the article said, was clearly reflected in the prices. A meticulous tracking of the graph of the price fetched by an 1894 work – Ophelia – showed that the artist sold the painting for `A3700; in 1913, the price sank to `A3472, and in 1950 only to `A320. Then began the rise: in 1969 it rose to 420; in 1971 to 3,000; in 1982 to 75,000; in 1993 to 419,500; and in 2000 to `A31.6 million.
The last buyer was the composer, Andrew Lloyd Webber, creator of such celebrated musicals as Jesus Christ Superstar, Cats, and Phantom of the Opera. There was more. Three years later, it seems, Lloyd Webber – evidently an ardent collector of Waterhouse's work – bought another painting of his, St. Cecilia listening to Music, for a little over `A36 million, setting a new record price for a Victorian painting. (This translates into something close to 48 crore of rupees, I think. Or am I wrong?)
What is happening here, one begins legitimately to wonder? A genuine appreciation of the genius of the artist? Changes in taste? Rivalry and competitiveness among wealthy collectors? Sheer speculation? Manipulation of the market by art dealers and galleries?
Perhaps a bit of everything, but it is difficult to tell. It is a plot twist as dramatic as one of Lloyd Webber's musicals. In any case, in the midst of all this bafflement, I found it necessary to look again at the career and work of John William Waterhouse, one of whose works I saw years ago – I vaguely recall – tucked away in the collection of a former ruler of a small princely state in western India.
Waterhouse, to whom recognition came only slowly even in his own time, was an eclectic painter, a private kind of person interested in classical, literary and historical subjects. The period in which he lived was dominated by the work and the flamboyance of the Pre-Raphaelites – poets and painters – but he carved out his own kingdom of followers, so to speak. His skills, especially as a colourist, were remarkable, and, drawn as he was to the world of ancient myth and contemporary literature, he was able to create a world that oscillated between fantasy and joyousness and mystery.
Even a casual look at the titles of his works tells one something: "Sleep and his Half-brother, Death", "Ulysses and the Sirens", "Psyche opening the door into Cupid's Garden", "Echo and Narcissus", "The Lady of Shalott", "Ophelia", "La Belle Dame Sans Merci". One knows that one is moving between Rome and Greece, between Shakespeare and Keats and Tennyson. But there was something romantic, something enticing, in the manner in which he handled his subjects, creating ever so often an enchanted garden.
When he died, elaborate notice was taken of his passing away even in the midst of the World War that was then raging. Many people wrote, but judgements on his work varied. One writer said that "he had taste and learning as well as considerable accomplishments", but then added, somewhat uncharitably, that "he was one of those painters whose pictures always seemed to suggest that he must have done better in some other work. This means that he never quite 'came off', that he raised expectations in his art which it did not completely satisfy."
Another obituary writer spoke in a different vein, however. "There are painters who are known as painters' painters. In other words, there are artists whose vocation would seem to lie in catering for the great public, and others who use palette and brush from sheer delight in their handicrafts. A modern of the moderns, Mr Waterhouse may be said to have spent his life in experimenting in and perfecting himself in his technique`85 It was as no cold formalist that Mr Waterhouse envisaged scenes historical. The glamour of the born colourist is to be traced on nearly every canvas to which he put his hand."
In all this, it is easy to see that different views can be taken, today as they were yesterday, of Waterhouse's work. But, to go back to where one started, and to take Waterhouse's case only as an example: are these differences in opinion enough to explain the dramatic fluctuations in the prices of his work? Or is there something else that is going on? One continues to wonder.