HOLLYWOOD HUES
Tale of two sisters
The movie does well to capture a society in transition where old values are conspicuous by their absence, writes Ervell E. Menezes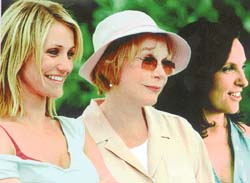 Shirley Maclaine (centre) as grandmother, Ella, of two very dissimilar sisters, Cameron Diaz (Maggie) and Toni Collette (Rose), in In Her Shoes
In White Christmas (1954) Rosemary Clooney and Vera-Ellen were two very devoted and similar sisters and there was a song that described their closeness. But in In Her Shoes, it is a case of two dissimilar sisters, in fact polar opposites, Maggie (Cameron Diaz) and Rose Feller (Toni Collette), and through their misdemeanours one gets a close look at family ties and how they are drastically affected by a few bad decisions by their not-too wise elders.
Maggie is pretty and a party girl, who barely graduated from high school, recycles jobs as quickly as changing fashions and knows her greatest asset is turning on men. Rose is a Plain Jane and a Princeton-educated attorney with a top law firm in Philadelphia. Her beautifully decorated apartment is a haven from the outside world. With her nose to the grindstone, she struggles with her weight and never feels comfortable in the clothes she wears. Her love she gets from romance novels she reads. But her one joy is shoes and she has as many as Imelda Marcos because they always fit.
After a mighty falling out, the two sisters part only to realise how much they really miss each other. Maggie goes to live with her estranged Grandma Ella (Shirley Maclaine), now in a senior citizenís home. Rose soon gives up her high-profile job for something more mundane, like looking after dogs. But it is this change that allows Cupid to shoot his arrow.
Actually the two sisters traverse a long (140 minutes) and bumpy road and scriptwriter Susasnah Grant does well to capture the transient values of society where old values are more conspicuous by their absence. It also touches on life of senior citizens. Shirley Maclaine graduates from playing a mother in Terms of Endearment two decades ago to being a grandma who has not yet given up on romance.
Director Curtis Hanson of LA Confidential fame is good at bringing out the subtle overtones in family ties, especially the contrasting siblings. But he takes far too long to unfurl his story. He could have left out some needless details.
Cameron Diaz is her usual sexy self, displaying as much cleavage as her protean acting talent, and is ably supported by Toni Collette whose gawky postures really become her. Shirley Maclaine doesnít have very much to do but does so instinctively. The other cameos are minimal but In Her Shoes is a cut above the usual banal Hollywood fare. If only they could have remembered that brevity is indeed the soul of wit.