Less rags, more riches
Celina Jaitley, who has had five releases till date—Jaanasheen, Khel, No Entry, Silsilay and Jawani Diwani—talks at length to V. Ananth about her latest film, her role in it, and her career strategy.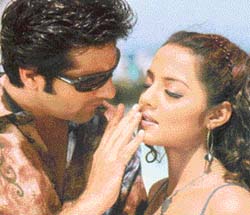 Celina Jaitley with Fardeen Khan
CELINA who had sashayed in on the big screen with Feroz Khan's Jaanasheen opposite Fardeen Khan is agog with excitement when she talks about her role in Jawani Diwani opposite Emran Hashmi. "I play the role of Roma Fernandes, a young Catholic girl who looks quite mod but is a very simple girl who dreams of being married to her guy for the rest of her life. The character which I have played in the film is quite close to me and hence I could identify with her to a large extent."
Celina concedes that there was hardly any need for her to do any homework to get into the skin of her character. "All that I had to do was to be as normal as normal can be. In fact that was the brief, which the director Manish gave me when he narrated the role to me. Manish, whom I fondly call Mannu, is the youngest director with whom I have worked till date. It was very easy for me to communicate with him since he also belongs to the same age group as Emraan and I do."
Celina confesses that when Babloo Pachisia had approached her with the offer to cast her as the leading lady opposite Emraan Hashmi in Jawani Diwani, she was petrified whether the film would turn up as Julie Part II. "Mannu put me at ease when I had to shoot a love-making scene with Emraan. Though I had thought that I'd end up having a heart attack if I set out to do the scene when Mannu explained it to me, I was in for a pleasant surprise when I saw the rushes. The scene looked nice and romantic and not as bad as I thought it would be."`A0
Celina does not mind calling a spade a spade and comes across as a whiff of fragrance when you compare her with some of the other heroines, except perhaps Mallika Sherawat. "Today intimacy has become very common, whether in society or in films because sex education has changed the attitude of people. Jawani Diwani has been made keeping in mind the youth of today. It is a love triangle with Hrishitaa Bhatt, which defies all the rules of geometry."
Celina exclaims, "It is true that the trends have changed today when compared to what used to exist way back in the 1980s. Today our masses want to equate Bollywood with Hollywood. Whether you like it or not, in Bollywood you are considered modern if you are ready to shed your clothes. You have got to cater to the audience. No one is forcing an actress to appear in a bikini. I made my debut in a bikini playing a violin in my very first scene. Though I am stuck with the glamorous image, I am keen on proving my versatility as an actress by essaying different kinds of roles in my forthcoming films."
Among the films which Celina has in her kitty are Subhash Ghai's Apna Sapna Money Money, directed by Sangeet Sivan, Dipak Tijori's Tom Dick & Harry and Maan Singh Deep's Kaash Tumse Mohabbat Na Hoti, directed by Osho Raja, which is the contemporary version based on Mughal -e -Azam with Rajesh Khanna playing the modern version of`A0Akbar and Celina playing a bar girl called Mohini, who is working in a bar called Anarkali Bar. —MF