Magic of Mumbai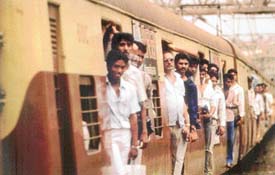 Public transport is Mumbaiís lifeline
From the oldest stock exchange in Asia to the largest film industry in the world, Mumbai is a city where millions come chasing their dreams. Come visit Indiaís largest, richest and fastest city in Megacities on January 29 at 9 p.m. on the National Geographic Channel.
Public transport is Mumbaiís lifeline. Trains in this mega city carry three times the number they were built for. Every year, 3,500 persons die on rail tracks. And the crowding will only get worse. Yet these trains keep this city in the fast lane.
The show also looks at Mumbaiís large-scale lunch delivery known as the dabbahwalla, recognised as one of the best-managed supply chains in the world. Forbes awarded the system its highest rating ó Six Sigma ó which means no more than one error per one million transactions.
By 2020, the city of 13 million could swell to an astounding 28 million people. Mumbai could become the most populous city in the world posing some of the most daunting challenges to planners, developers and social scientists.
Olympian feat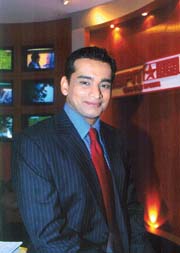 Uday Joshi: Sporting a torch
Sports presenters are not necessarily known for their prowess in the sporting arena ó that is, if you are not talking of Uday Joshi, presenter of Sports Center on ESPN who became the first man of Indian origin, to be a torchbearer for the XXth Winter Olympics.
The Torino 2006 Olympic Torch Relay will cover a total of 11,300 km, visiting 140 cities in Italy as well as touching neighbouring Austria, Switzerland and France. The torch will arrive in Turin on February 10 heralding the start of the Winter Olympics.
Joshi will be one of very few Asians to share the honour."I am proud to be a part of the relay.At the same time it is a very humbling experience to be in the esteemed group of these big athletes," says Joshi. Sports legends like Carl Lewis, Pel`E9 and Nelson Mandela have all been torchbearers in the past. Around 2,500 athletes, 650 judges and umpires and one million spectators are expected to participate in this 20th edition of the Winter Games.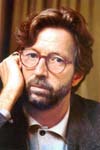 Eric Clapton: Celebrated strummer
Master of guitar
Check out all you wanted to know about Eric Clapton, the god of Guitar, on the History Channel on January 30 at 10 p.m. The show takes you through the triumphs and tragedies of the rock legend, including the death of his four-year-old son. Born in Surrey in England, Eric Clapton was an above average student. He, however, played the guitar more often than he studied. He got his first guitar on his 13th birthday as a gift from his grandmother. Clapton is one of the most complete musicians in the world ever. Some of songs like Journeyman and I shot the Sheriff have become legends. ó NF