ulta pulta
Glass apart
Jaspal Bhatti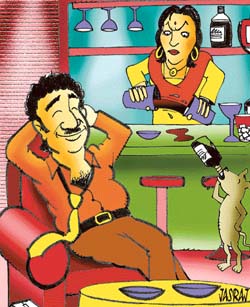 When I came back early from work, my wife was quite happy to see me. She instantly made pakoras and sweetly asked me, "What will you have ó tea or coffee?" I said, "Why donít you make a nice drink for me with half a glass of water, half soda and little ice on top?"
Her niceties suddenly disappeared. She said angrily, "You know that I have always been against men drinking, and today you are asking me ó a lady ó to pour a drink for you."
I told her that the Delhi High Court had declared that women bartenders were to be no longer considered unconstitutional. I advised my wife that now she should do a short course in bartending and learn the art of making cocktails. My wife was furious. She said, "Why donít you do a short de-addiction course at a naturopathy camp?"
My friend Lally, who is known for never reaching home before 11 p.m., once decided to take his wife to a late-night party. There he made a large drink for himself and a small one for his wife. On sipping the drink, she winced at the bitter taste. She told Lally, "I donít know how you can drink whisky every day when it tastes so horrible?" Lally said, "Hor tu ki sochian? Assi roz aishan karde phirde han"(What did you think? That we are having a good time daily?)