What's cooking?
Do the super chefs have the time to put together a tasty meal for the family or do they leave it all to their wives, finds Parbina Rashid
THEY can whip up any dish in a jiffy to a client's satisfaction. They can cook to perfection and present with innovative style. They even have fancy degrees to back them up in this age-old chore, which mainly belong to the women folk. Yes, we are talking about chefs in the city who have made the kitchen their domain, but only when it comes to making mega bucks.
Films go far beyond borders
Saurabh Malik speaks to filmmaker Zafar Hai who is town to screen his film on the Tatas
HE too is in the favour of opening borders with Pakistan; if right away not for the people, then at least for the moviemakers. Emerging from one of the halls in the Centre for Research in Rural and Industrial Development during his visit to Chandigarh in connection with the screening of his hour-long movie "Keepers of the flame", filmmaker Zafar Hai says in impeccable English, "Look at the effect it will have on the film industry in both India and in Pakistan".
Dream Pakistan
Saurabh Malik
HE is ready for action again. But before that, cinematographer, writer and director Manmohan Singh is looking forward to the release of films in Pakistan. "Once the doors are opened to Bollywood by the Pakistani Government, we will double the budget," he says.
FILM REVIEW
Colour of spring
THE most awaited film Rang De Basanti opened with a bumper opening on January 26 at Batra Chandigarh, Fun Republic and KC, Panchkula. UTV productions' Rang De Basanti is being promoted in a big way on TV Channels. The director Rakeysh Omparkash Mehra, who had made his debut with Amitabh Bachchan, Manoj Bajpai and Raveena Tandon starrer Aks, has put together Aamir Khan, Madhvan, Atul Kulkarni, Sharman Joshi, Kunal Kapoor, Soha Ali Khan and British actress Elis Patten in this well directed film.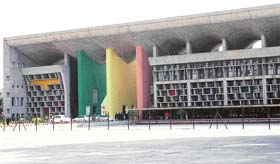 CITY CRITIQUE: A view of the High Court.
— Photo by Manoj Mahajan
Look Back in Anger
City-schooled artist Kanwaljit Dhaliwal pins his master's thesis from the University of East London on the architecture of the city and finds much amiss in its very conception, says Nirupama Dutt
THE oldest memory of Kanwaljit Dhaliwal, a painter and sculptor nurtured in the College of Art at Chandigarh, dates back to the Sixties when sitting in the open at school in his village Malout Mandi, he read an essay in Punjabi on the city. The essay said thus about the city: "the roads cross each other at right angles and the traffic is controlled by lights and there are no mosquitoes or flies…"
At Home with Sophistication
Blaring horns of white Ambassador cars with flashing red beacon lights, mercilessly drowning the whisper of cool breeze caressing the lush green lawns, announce the arrival of VIP guests as the impressive gates of Punjab Raj Bhavan are thrown wide open to let them in for the Governor's "At Home", ceremoniously.
Shining bright
CITY Beautiful is not just about beautiful or fashionable people, but it is also a place for people with talent and creativity. Deepali Bhandari and Amanpreet Mann, students of S.G.G.S. College, have proved this fact once again. As budding writers, Deepali and Amanpreet have done us proud by representing the city at the Katha Asia International Utsav that recently took place in Delhi.
MATKA CHOWK
Cable Raj
Sreedhara Bhasin
MANY of us don't realise that we are under a new raj — the cable raj. The cablewallas are now teaching us some very valuable lessons of life. Most of us are completely dependent on them for we are addicted to our TV sets. And therefore, like the so-called Benevolent Despots of the 18th century, they give and they take away.
TECH TALK
The Bluetooth Advantage
Picture this. You keep a note of what groceries are you need by entering them in your Bluetooth enabled refrigerator. When it comes time to shop, you simply synchronize the list with your Personal Digital Assistant so that you don't forget to pick anything up. Sounds too Star Trek to be real? This is not a scene out of a sci-fi science fiction, but some of the endless array of possibilities that the Bluetooth technology offers.
COOL STUFF
Dare for a new cafe
Pepsi, the most popular soft drink in the country, has yet again proven its innovation credentials with the launch of its new in and out variant - Pepsi Café Chino. The drink with a deliciously distinctive flavour and an authentic coffee aroma, Pepsi Café Chino is Pepsi's first cola drink with a mocha-latte shot.
PAMMY'S BEAUTY TIPS
Fighting Dandruff
THERE is nothing more embarrassing than to have someone brush those snow flakes off your shoulders—dandruff! The nature of dandruff is still uncertain. A yeast like organism (pityrosporum ovale) has been found in the scales. This fungus lives on our body and scalp all the time. Medical authorities do not consider it contagious but cross-contamination can occur by the common use of combs, brushes and headgears.
Just open yourself to life
HOW can I help my husband from feeling insecure? I'm 35 and earning more than him and pay for most of our expenses. I am quite happy doing this and really have no problems with it. I have never even made him feel that it bothers me at all. However, I feel sometimes that he feels awkward and about it.
Memoryscapes
Parbina Rashid
DR Rakesh Kumar Singh's clusters of houses are surprisingly bright, but then he has an explanation for this. They come from his memory lane, some tribal village he had seen earlier. "If you have seen tribal areas, you would know what I mean, everything about them is colourful," says the artist, who held his solo exhibition at IndusInd Art Gallery.
Lovely voice
Satwinder Lovely, the young talented singer from Punjab who created waves with her debut album 'Lehnga' which was released by the Chandigarh based music company RDX was in the city to perform at a show organised for blood donors on Republic Day.
---