M A I N N E W S
Nation pays tributes to Mahatma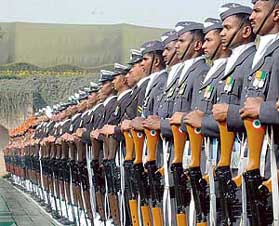 Personnel of the Indian Army, Navy and Air Force pay respects to Mahatma Gandhi at Rajghat on Martyrs Day in New Delhi on Monday. — PTI photo
New Delhi, January 30
The nation paid tributes to Father of the Nation Mahatma Gandhi on the 58th anniversary his martyrdom today.
President A.P.J. Abdul Kalam and Prime Minister Manmohan Singh, besides a host of other dignitaries, led the country in paying floral tributes at Gandhiji's samadhi at Rajghat here this morning.
A special 'Sarva Dharam Prarthana Sabha' (all-religion prayer meet) was held later in the afternoon at Gandhi Smriti at Tees January Marg in the capital to mark the occasion.
The Prime Minister and a host of VVIPs, members of the diplomatic corp and people from all sections of the society were present at the function.
Eminent vocalists — Rajan and Sajan Misra brothers — and 300 children from six schools of the city offered musical tributes to 'Bapu'.
Meanwhile, Delhi Assembly Speaker Prem Singh. MLAs, freedom fighters and senior Delhi government officials also paid floral tributes at Mahatma Gandhi's statue in the Assembly complex.
A silent 'non-violence' march was also taken out in Delhi to mark the occasion.
A poster exhibition 'Albert Einstein and Mahatma Gandhi' was also being organised at the National Gandhi Museum near Rajghat here. — UNI