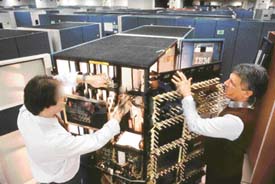 Hardware not a soft option
Nikita Singh
With the increasing number of PC users and emergence of India as a favoured outsourcing destination, a career in hardware offers good growth opportunities.
IF you have a penchant for unravelling the mysteries locked within circuits and switchboards and if playing with toys meant breaking and remaking them, you have the perfect acumen for the hardware industry.
Future scenario
The hardware industry is an attractive career option for those inclined towards the technical field. Statistics suggest that it has the potential to touch $62 billion by 2010, that is, 12 times it's existing size.
Careercature
Sandeep Joshi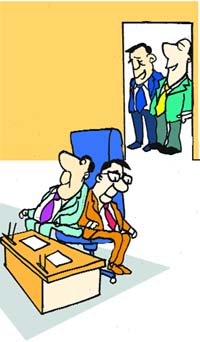 Sir, after the merger there is a tie for the hot seat.

Eventbuzz
Global HR guru to attend congress
INDIAN business leaders will have a rare opportunity to interact with human resource guru Lynda Gratton, associate professor of management practice, London Business School, at the three-day World HRD Congress 2006, to open in Mumbai on February 2.


Career Hotline
Crack crime
Q I am interested in becoming a CBI officer. Can you please tell me about the eligibility criteria and the selection procedure? Please advice.
Count on banking technology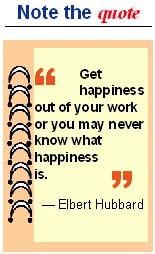 Smart Skills
Stage an entry into performing arts
Usha Albuquerque
THE unprecedented success of the Indian Idol and other such reality shows on TV has indicated the growing popularity of careers in music, dance and films. Not surprising that production companies and event managers have been scouting the country for fresh faces and young talent. So, now newcomers with talent in singing, dancing, composing, arranging or playing music, choreography and acting, but with no 'godfathers' can seriously look at the avenues within the wide gamut of performing arts.